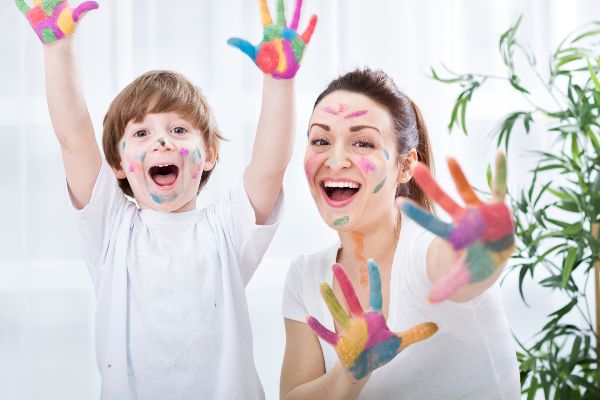 You know that amazing feeling when you go to bed knowing your entire house is clean?
Yeah, us neither to be honest. And we'd bet most mums know very little about this feeling. Who has the time to clean the whole house right before bed while juggling the endless to-do lists? Being a mum is already hard work without putting that extra pressure on yourself.
If you do, we have deep respect for you but being a 'messy mum' practically comes with the territory if you've any toddler aged two and above. And here are some reasons why its actually a very good thing indeed.
Even trying to be 'perfect' is exhausting
There is no such thing as a perfect mum - a perfect anyone. Who has the time to devote to ensuring their house looks straight out of House & Home? Even thinking about attempting that level of unattainable perfection is utterly exhausting. Save yourself the time and stress and put your energies into something you and the kids will make happy memories doing.
Everything is more fun
...At least for the kids! The giggles, the shrieks, the fun they have searching for that missing lego piece (not as fun for you though, granted) is far more satisfying and enjoyable for them than trying to avoid stepping on the rug to spare any dirt. And when the little ones are happy and having fun, you do too.
...And more honest
You're giving your kids a genuine example of an honest life well lived, and that includes a house of clutter. Some of this writer's best memories are playing with every single toy I owned in the kitchen while my mum washed dishes at the kitchen sink - seemingly happily oblivious to the merry havoc I was creating. But I remember it all. It's real life. It's normal. And it teaches your kids that mess is just a part of life.
It makes for better photographs
Never mind the fact that the kids are in their element and beaming and happy - exactly the kind of pictures you want - what about the beloved toys, the tiny shoes, the rooms in your house that you may gut and refurbish years down the line? - They are all memories; moments snapshot in time that you can look at again later - one of the silver linings that come with a bit of clutter.
It brings out the best in the kids (and you!)
So you could spend play time tidying up around your little ones, or you could lay on the floor next to them and try to 'trick' them into cuddling into you between in between ball throws. Definitely a no-brainer; who cares about mess when you can have cuddles?! The kids love it and so do you.