Suns out, kids (and their mums) out!
Irish people tend to quickly shed layers at the very first glimmer of sunshine. We have been deprived of vitamin D for so long, that the mere mention of sun has us dragging chairs outside and preparing the barbeque.
In this wet part of the world, parents are so excited for the sunshine that 97% of us say we prefer our little ones to play outside during the summer months. Boots Ireland conducted a study revealing that factors such as exercise, fresh air and mental health are the motives behind this encouragement. They also found that we, as parents, tend to encourage our kids to soak up the vitamin D and enjoy the sunshine.
These results probably don't surprise you and they didn't surprise the researchers over at Boots Ireland, either. However, further studies revealed a darker side to the sunny weather. It turns out, our love for the sun is far stronger than our desire to protect our kids from its rays. Boots found that 28% of kids in Ireland are not always protected by sun lotion or a protective spray when outdoors. Furthermore, over half of parents said they let their children play outside during peak sunshine hours, when rays are at their strongest.
These observations are worrying when you become aware of the danger of sun exposure. According to the Experts at Boots, sunburn and exposure to UVA during childhood increases the risk of skin cancer in later life. Fortunately, there are simple precautions parents can take to protect their children's skin against the power of the sun's rays. Using protective sunscreen or spray is the first step to protecting their sensitive skin. Wearing sunglasses, a hat and long sleeves are also key steps to keeping your kiddos safe in the sun.
When choosing sun protection, it's important to opt for a 5-star UVA rated product like Boots Soltan which prevents up to 100% of UVA from permanently damaging skin. The UVA star rating system shows how much UVA protection is in a product, with five stars being the highest level.
Boots Soltan also have a formula just for babies that has been approved by paediatricians; the range for kids is available from just €5, which is fantastic value.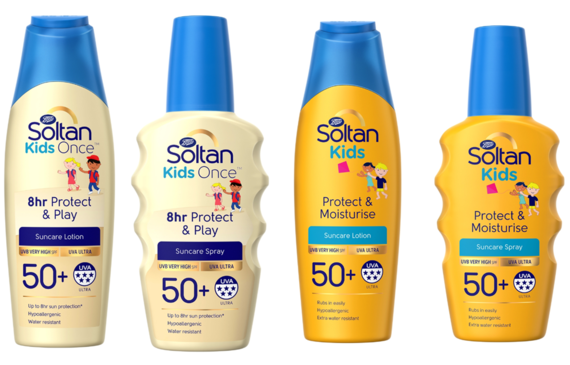 There are products that offer more than just sun protection, like sun creams with added insect repellent and a face range with an added anti-ageing complex. Boots Soltan also offers an after-sun range, made to soothe, moisturise and cool skin. Boots Soltan is exclusively available in Boots stores nationwide and at
boots.ie
. Head there today mamas, to get 'em ready for a protected summer in the sun! There's also lots of tips on staying
sun safe
.