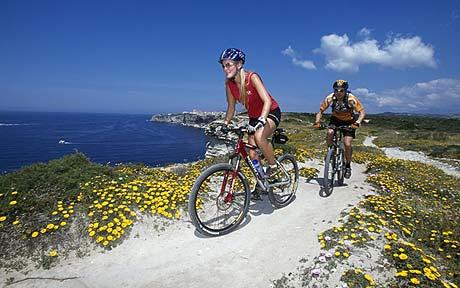 If lying on the beach isn't your idea of fun, then sink your teeth into these boundary-pushing adventure holidays with a difference.
Sri Lanka
Sri Lanka is a location that's really coming into its own as an adventure destination. People have long been drawn here for the rich culture - Sri Lanka has eight unesco World Heritage sites, including the fifth-century city of Sigiriya. Now they're discovering the incredible wildlife, including some of the world's best whale-watching. Operators ranging from Abercrombie & Kent to Natural World Safaris showcase tea plantations, religious festivals, leopard tracking, and the annual elephant migration in Minneriya National Park.
The Carolinas
The backroads approach to Appalachia balances days of pedalling through Southern landscapes in the US, and through the iconic Blue Ridge Parkway and Transylvania County hill country. Enjoy overnights in Asheville and at former pro cyclist George Hincapie's Hotel Domestique near Greenville, South Carolina.
Namibia
Spot African wildlife, hike the world's tallest sand dune, and meet Himba tribesmen on a beginner-friendly mountain biking safari from H&I Adventure. You'll ride to the starkly beautiful Skeleton Coast and inland watering holes frequented by elephants, lions, and endangered black rhinos.
Papua New Guinea
Visit coastal fjords, the Western Highlands, and active volcanoes in this island nation where more than 700 languages are spoken. Much of the journey is dedicated to witnessing the everyday life of villagers, including Baining fire-dancers. Participate in a moo-moofeast (pig roast), and learn about local customs such as mat-making and tribal tattooing.
Morocco
The latest from DuVine Cycling and Adventures is a varied trip, with stops at Marrakesh's souk, Berber villages in the High Atlas Mountains, and Richard Branson's Kasbah Tamadot. On the last night, you'll wheel across the desert to a remote, starlit oasis.
Patagonia
Though its attractions for serious trekkers and climbers remain undiminished, this region east of the Andes is now enticing a new set of travellers who prefer luxury sheets to drafty tents. A handful of luxury lodges have opened, most recently Awasi Patagonia - and tour operators are adding itineraries for comfort seekers. GeoEx explores Chile's Chacabuco Valley, the towering O'Higgins Glacier, and Argentina's Lago del Desierto. Santiago Adventures also takes in both sides of the border, with backcountry 4 x 4 rides and stays at Chile's Singular Patagonia and Eolo Patagonia's Spirit in Argentina.
New Zealand
The latest tour by VBT Bicycling and Walking Holidays is a highlight reel of South Island landscapes, from the soaring mountains of Nelson Lakes National Park to the pristine beaches along the Abel Tasman Coast Track.
India
In India, the Ultimate Travelling Camp has a series of stylish mobile tents throughout the country that allow travellers to experience everything from the monasteries of Ladakh to the lush hills of Nagaland, on the border with Burma.
Image via Pinterest.