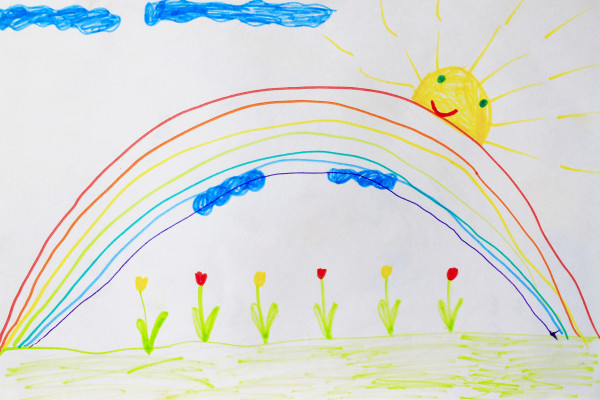 As a parent, we all want what is best for our children.
We want them to feel loved and nurtured and have a better childhood than the one we had. It is hoped that they settle into school, form lasting friendships and gain confidence as they progress through the years.
After leaving school, parents hope that their child will be employable or take on further study to improve their employability and eventually settle down with a wonderfully supportive partner who they can share their dreams, goals and lives with. This is the life plan most parents have laid out for their children, but if their child doesn't follow this path, the parents are generally accepting of the choices they make, you just cannot help but love your child, faults and all.
My children are only young at the moment, but already I am super excited to see where life takes them and I consider myself to be fairly liberal. I just hope my children aren't gay.

As a young adult, I had several gay friends who I met through work and study, we shared stories, nights out and are still in touch today despite not seeing each other as often as we used to after I had my family. You know, pretty typical scenario, the same situation I find myself in with friends who have heterosexual relationships, life just gets in the way. It never occurred to me that they would have encountered any prejudice or bigotry because of who they happened to find themselves attracted to. I thought it was just as simple as – you like who you like, what's the big deal?
More recently, a female colleague of mine spoke about how she had a boyfriend in her teenage years and knew it just didn't feel right to her. It took a long time for her to accept that she was attracted to the same sex and even longer to tell her parents. This girl is funny, smart, confident and comes from a supportive family, and yet even she had internal struggles with herself as she was concerned about what people would think. I really don't want my child to ever go through anything like that or face any hardship over who she just happens to be attracted to. Every mother just wants a nice easy path for their children to reach their goals and find happiness. I would never have dreamed that there were so many people who would dare have opinions on your choice of a same-sex partner, as a whole I genuinely thought as a society we were passed that.

That's why it is so surprising to me that we, in Australia, were asked to vote to as to whether or not other people should get married. Is that for real? When is Australia going to wake up to what is going on in the rest of the world? Gay marriage, or equal rights as I call it, is happening and it's time to stop the fight against it. The emu and the kangaroo were chosen as emblems on the Coat of Arms as a symbol of progression because they can't walk backwards. If Australia wants to be taken seriously as a progressive society on the world stage it's time to get amongst it and halt the backwards attitude.
Remember when we didn't want the Aborigines to have the vote and then we had to give in and let them have it anyway? Now, we wouldn't dream of refusing anyone the right to vote based on their skin colour, it's going to be the same thing here with letting the LGBT community getting married if they choose to. Even writing that down 'the LGBT community' sounds patronising and distancing, there is no need to label people, it's just letting everyone decide if they want to get married or not.

Some of the comments I have heard from people I thought were relatively normal, functioning people, have astounded me. Saying it 'isn't natural to bring up kids with two gay parents' is just short-sighted. While I agree the stable 'mum and dad family' is a lovely scenario, that just isn't the case for a lot of families these days and guess what, we still manage. As a single parent, I am aware of the need for suitable male role models for my children, and I seek to find them within my family and social circle. Mmmm…. I wonder if two mums could do the same thing for any children they had?
Another friend of mine said he doesn't care if 'they have relationships with each other as long as they keep it out my face and don't think they can hijack marriage and make a joke of it'. This same guy happens to be cheating on his wife. There is someone in my distant circle who is concerned about the unfair burden it may place on priests and ministers who don't 'believe' in gay marriage. It's not the tooth fairy, it is a real thing that is happening. The thing is – anyone getting married seeks out an officiant who agrees with their values and caters to their style. I can't think of any possible situation where a gay couple looking to marry would say 'oh, you know you we should go and see the reverent at my parents' church, he is against gay marriage, he'd be perfect to seal our union'.

These comments all come from people who walk amongst us. Until this vote was mentioned, I had no idea they held such inward views and for every person who raises their head above the parapet, there are no doubt others who share their views lurking below.
I, in all honesty, thought being gay wasn't even seen as an issue these days and that's why I'm shocked to see we are all being asked to chime in on it. Let that sink it – we are all being asked our opinion on whether or not a minority group should be permitted the same rights as the rest of us? And what if the answer had been no? Would the rest of the minorities have their rights slowly removed as well?

So yes, I sincerely hope my girls don't grow up and happen to like other girls, cause it seems these medieval attitudes are ingrained in society and we have quite a bit of progress to go before it isn't even an issue who likes who. It is still a hard path. It isn't everyone else's place to say who should be able to marry, the solution is simple, if you don't support gay marriage – don't marry someone who happens to be gay.