Our first glimpse of Abu Dhabi is from the air - a kaleidoscopic landscape of beige. The sandy wilderness gives way to a sparkling metropolis where sun glints off every available shard. It is completely enchanting and our one year old is already mesmerized - wide away and delighted with herself after a not-terrible 6 hour flight.
Positioned an hour from glitzy Dubai, Abu Dhabi forms part of a group of the UAE's seven Emirates. Like Dubai, it too is defined by soaring glass block towers and five-star resorts. It also shares the same unapologetic air of glamour of the Dubai set. But Abu Dhabi no longer stands in its neighbour's shadow. It has its own Grand Plan. And it is wildly ambitious. Abu Dhabi is determined to become the cultural headquarters of the Middle East. It has also turned its charm on tourism and at just a six hour flight away - people are beginning to choose it as a family destination for some much-needed winter sun ahead of the sometimes ostentatious Dubai.
We wanted a family holiday with guarenteed sun (we went in January) with some great beaches, nice food and a safe environment. Abu Dhabi seemed to tick all those boxes and with a direct flight from Dublin, off we hopped with our baby daughter.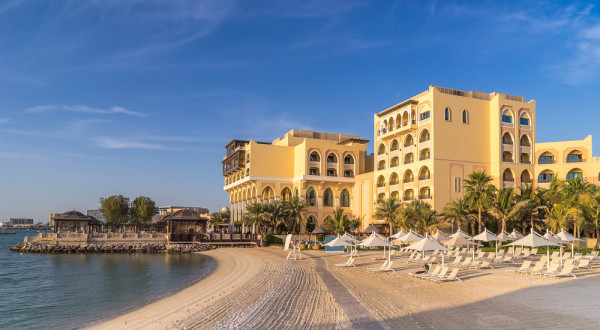 The beaches are laid back and beautiful with sand as white as the postcards suggest, but the desert haze prevents a true blue sky. Instead, it adds to the otherworldly feel of this extraordinary city on the edge of the Persian Gulf. Saadiyat Island, in particular, is a family holiday dream. There are five star resorts as big and as elegant as you would expect for a city that places luxury at the centre of all its offerings.
On our first humid night here we take a stroll down the Corniche - a sweeping manicured waterfront stretch that has some of the best people-watching spots and it is perfect for our little wobbler. We stop to sample some amazing Lebanese food which she also wolfs down. So far, we have received a very warm reception across the board, but especially from the locals who are beautifully robed in crisp white (for the men) and (black) for women.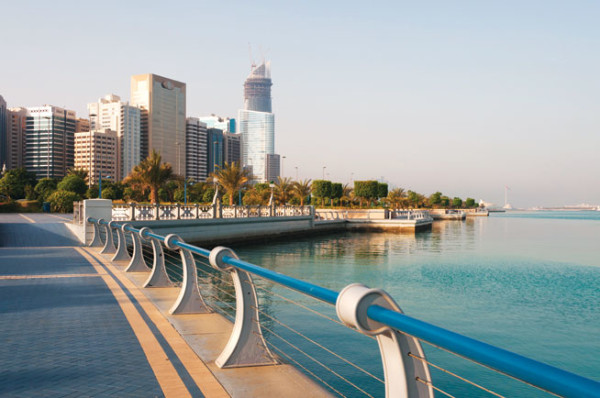 The next day we spent a pleasant afternoon exploring the traditional Souq (markets) of Qaryat Al Beri. You can buy Emirati products, marvel at the displays of gold jewellery or simply enjoy the cacophony of Arabic, Turkish, Lebanese and Indian chatter all about. We took the traditional wooden 'Abra,' a type of Middle Eastern gondola across the 700 metre stretch of canal and our daughter adored watching the other water boats bob past.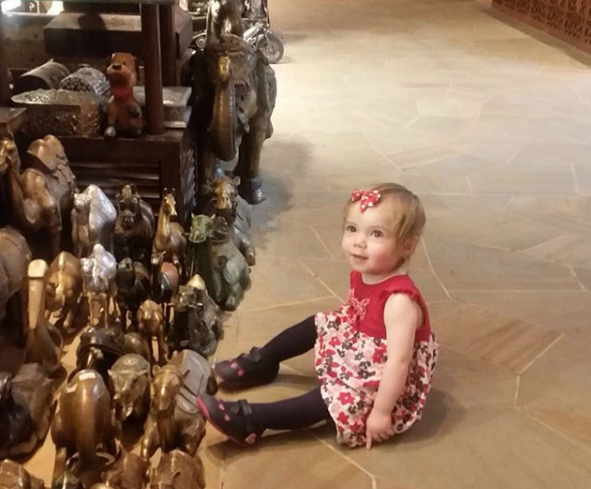 Grown-up foodies will also find plenty of Eastern delights to thrill. We had a very memorable meal at Pearls and Caviar, a contemporary Mediterranean seafood restaurant, overlooking the private beach at the Shangri-La hotel with panoramic views of the Abu Dhabi strait. We loved the quirky the air of the flamboyant with flourishes of flamenco blended with traditional mosaic tiles, but the real show-stopper here is Sergi Arola's hybrid tapas menu. We treated ourselves to a babysitter and gorged on Bomba de la Barceloneta (an explosion of mashed potato, beef ragout and aioli) and sipped sweet dessert wine while planning the next day's adventure.
Yas Island is a purpose-built paradise with a Formula One track where kids play in fountain jets while cafe bars bursting with sunny seating areas overlook the marina. We lolled over a late brunch and watched the yachts but for those looking for something a little more high-adrenaline, Ferrari World is a branded theme park close by that features the world's fastest rollercoaster as well as state-of-the-art simulators and racing memorabilia. The water parks in both Dubai and Abu Dhabi are also worth a special mention. We spent a day exploring Yas Waterworld - a water park with more than 40 rides. We stuck to the wave pool and mushroom water features for little Miss screech-a-lot.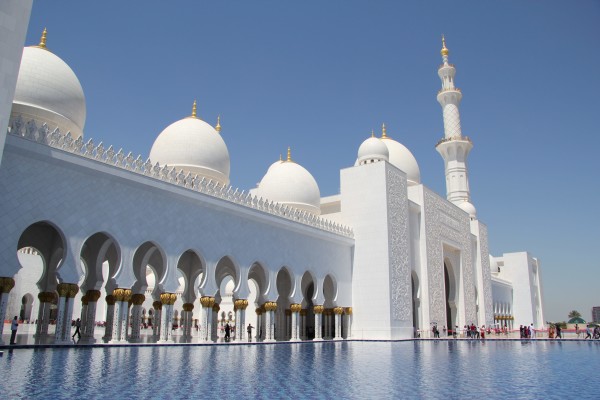 But I was curious to see if my preconceptions over the unbalanced gender equality would surface. If anything, it gave me a fascinating insight to a culture I knew very little about. It was on a visit to the iconic Blue Mosque, which stands eloquently at the centre of the city, that really gave me a flavour of Middle Eastern life. Sheikh Zayed Mosque is one of the most important architectural treasures of contemporary UAE society—and one of the most opulent in the world.
It makes for a breathtaking view, as we discovered on our first morning from our hotel balcony at the Shangri La. Standing proud on the city's skyline, the early sun casts a glow over its splendid curves. Up close, the mosque is even more intimidatingly beautiful. Admission is free and it is usually open Saturday to Thursday from 9am until 10pm. Visitors are shown to large dressing rooms (men into one and women into another) where, as a matter of respect, you are given robes similar to the garments worn by local Emiratis. My daughter had no idea it was me until I started playing peekaboo! Yes, it was stifling for my pathetic Irish constitution, but my overriding feeling was one of surprising liberation. We instantly blended into the swathes of crowds, but it also gave us the best way to observe the world around me discreetly, free from judgement, and with a feeling of anonymity that was quite intoxicating. I learnt through speaking with locals and friends who lived in Abu Dhabi that as one of the more progressive of the seven Emirates, many of the women here choose to wear the traditional Abayas.
Part of the lure of Abu-Dhabi -is wanting to discover more and more. It is not only a wonderfully interesting sun destination, it is a great family holiday venue. And while many of Abu Dhabi's achievements are nothing short of astounding, prepare to fall in love with its brazen self-believe as well as its enchanting culture.
WHERE TO STAY
We stayed at the 5-star Shangri-La hotel (www.shangri-la.com/abudhabi) which overlooks the Blue Mosque. Its lush garden landscapes make for a serene, faraway world and it is also handy for the airport (30 minutes drive) but there is plenty of choice when it comes to somewhere to rest your head. We found this resort very child-friendly, with the chef cooking my daughter her own style eggs at the breakfast buffet and a very reasonable babysitting service from a wonderfully kind woman recommended by the hotel.
WHEN TO GO
We travelled in early January and found the weather to be ideal for little swimmers (24 degrees). The best time to visit this part of the Middle East is from October to April when it is cool enough to make the best of the outdoors. Temperatures are usually from 10 to 25 degrees centigrade. Temperatures get as high as 48 degrees in July and August and the humidity can be quite uncomfortable for children.
WHAT TO BRING
I wore my usual summer attire - sundresses, shorts and tee-shirts but made sure I brought a shawl/pashmina with me to cover my shoulders as we visited some of the more religious areas. Beachwear is acceptable at public beaches and at hotels and resorts. Keep in mind that it can also be chilly for the little ones with the air-conditioning in restaurants and bars. Alcohol is very expensive here so it might be an idea to visit duty-free on the way if you enjoy your glass of wine on the balcony in the evenings. A must after any day with a one year old!
GETTING AROUND
Taxis are a very common and affordable form of transport here in Abu Dhabi. You can flag one down almost everywhere and many of the shopping centres and malls have their own dedicated taxi ranks. I was fascinated to see pink taxis which are exclusively for female passengers and little boys aged 10 and under. They are driven exclusively by women and have the same fares as other (silver) taxis.
The journey into town from the airport costs about AED 70 - 80 (€17) and takes half an hour. You can also take the A1 bus into Abu Dhabi City. It runs every 30 minutes, 24 hours a day.
USEFUL TIPS
Most of the larger hotels have staff who speak English.
It is very family friendly with children at all the restaurants until 9 or 10 in the evening.
Tipping for good service is common practice (10%)
Check when Ramadan starts and ends. It lasts 30 days. It is a holy month where Muslims fast from dawn until dusk. The city gets much quieter and working hours are reduced. In respect to those fasting, eating and drinking is prohibited in public.
The weekends here are Friday and Saturday so Sunday is the first working day of the week.