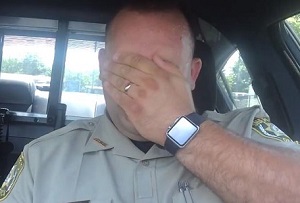 There have been so many tragic stories in recent times, documenting tragedies in which babies and young children have lost their lives after being locked inside a hot car.
In a bid to raise awareness of the dangers of being stuck inside a car amid stiflingly hot temperatures, the Forsyth County Sherriff's Office in the US decided to share an important information video.
A brave police deputy took part in a regulated experiment in which he was recorded sitting inside a hot patrol car for 20 minutes, and the effect it had on his body.
After just a few minutes inside, the deputy's heart rate had doubled. By the end of the experiment, the cameras had shut down as a result of the heat, and he was already showing symptoms of heatstroke.
Before signing off at the end of the video, he urges people to not only be sure not to leave children - or people of any age, or animals inside of their cars in the heat, but to also contact authorities if they see someone who might be in trouble.
This video certainly is eye-opening and will hopefully raise awareness around the world.