Mums Say Trial: Fairy Non-Bio Gel 38 Washes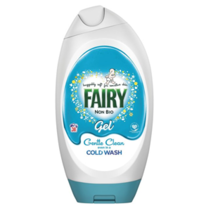 Join this group
Discover the power of gentle care in a cold wash with Fairy Non Bio Gel. It is no surprise that Fairy Non Bio was voted no.1 laundry brand for sensitive skin. Fairy Non Bio leaves clothes brilliantly clean and feeling gentle next to precious skin even in a cold wash.
Its viscuous formula makes Fairy Non Bio Gel easy to use - just pop the right amount in a attached dosing cup, and add that direct to the heart of your wash, so all those magical Fairy ingredients can get to work straight away. Use with Fairy Fabric Conditioner for the softest combination for your baby's skin. 38 washes based on 50ml per wash.
We are looking for 10 mums to trial Fairy Non-Bio Gel 38 Washes. To be in with a chance of participating, please join the group and leave a comment below to register your interest. In the event that we are oversubscribed, we will make our selection at random from qualifying entries.