NEW MUMS SAY TRIAL: CALPOL® Vapour Plug & Nightlight for Children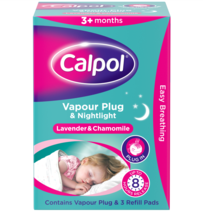 Join this group
The Calpol Vapour Plug & Nightlight helps to soothe and comfort babies and children by helping to promote a relaxing environment. Providing up to 8 hours of soothing night-time comfort, the Vapour Plug can help to encourage a full night of sleep for both your little one and yourself.
Just plug in the CALPOL® Vapour Plug & Nightlight to release soothing lavender and chamomile vapours. It helps clear and ease breathing, to aid a restful night's sleep.
The nightlight is only activated at night when your lights go out, helping to save energy, as well as allowing your little one to sleep comfortably.
It has easy-to-replace refill pads and you can buy these in packs of 5 or 10, for whenever your little one has those night-time sniffles.
The Calpol Night Vapour Plug and Nightlight is suitable for children from three months and can be used safely in conjunction with any medicine from the Calpol range.
We are looking for six MummyPages families to test the CALPOL® Vapour Plug & Nightlight and tell us what you think.
If you would like to take part in this Mums Say Trial, simply join this group and leave a comment below telling us about you and your family, and why you'd like to take part. In the case we are oversubscribed, we will select six mums at random.
Please note this product is to help with clear and easy breathing, so please don't trial it unless your child is congested.

CALPOL® Vapour Plug & Nightlight (from 3 months) to help with clear and easy breathing. Electrical Device. Non medicine. Always read the label. IE-CAR-2000053.