New Mums Say Trial: Fairy Non Bio Gel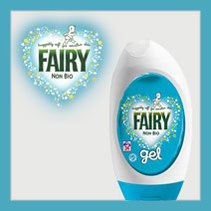 Join this group
We all want to keep our children's clothes as soft as possible to protect their delicate skin. Dermatologically tested, the Fairy Non-Bio range has been awarded the Skin Health Alliance seal. Independent tests have confirmed that clothes washed in Fairy are as kind next to skin as clothes washed in water alone.
Fairy Non-Bio Gel comes in a unique compact bottle complete with its own dosing cap. Simply put one high precision squeeze of gel into the cap, then place it straight into the centre of the wash to experience great results and a more hassle free laundry experience.
We are looking for 20 mums to trial Fairy Non-Bio Gel. To be in with a chance of participating, please join the group and leave a comment below to register your interest. In the event that we are oversubscribed, we will make our selection at random from qualifying entries.
Recruitment for this group is now closed.
If you would like early notification of new group trials, please visit this page and join the group where you will get early email notification once new groups are live.