NEW MUMS SAY TRIAL: Fairy Non Bio Platinum PODs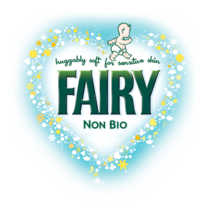 Join this group
Fairy Non Bio has launched new Platinum PODs® with Extra Stain Removal, to provide a new level of clean, for a new level of mess. As children grow up, the stains they encounter grow too, so Fairy Non Bio Platinum PODs® detergent offers the same gentle care for sensitive children's skin, now with boosted cleaning power.
With a formula that is suitable for sensitive skin, Fairy Non Bio Platinum PODs® gently clean your clothes whilst also wrapping your family's delicate skin in huggable softness. Platinum PODs® give you Fairy's best softness* now with extra stain removal** thanks to the addition of more cleaning surfactants for extra cleaning power. Fairy Non Bio Platinum PODs® have also a new fresh scent! New Fairy Non Bio Platinum means you can create more memories with your family, and have less mess to worry about.
Fairy Non Bio Platinum PODs® have a multi-compartment design: each capsule contains the right amount of detergent to leave laundry wonderfully clean and soft next to precious skin. For best results, place the PODs® directly into the bottom of the drum and add your clothes on top. Try the Fairy Sensitive Skin Dream Team: Fairy Non Bio Platinum Pods + Fairy Snuggly Soft Fabric Conditioner for the softest combination for sensitive skin.
We're looking for five MummyPages families to test the Fairy Non Bio Platinum PODs® with Extra Stain Removal - all you have to do is try them, and tell us what you think.
If you would like to take part in this Mums Say Trial simply join this group and leave a comment below telling us about you and your family and why you'd like to take part. In the case we are oversubscribed, we will select five mums at random.