NEW MUMS SAY TRIAL: Mama Bear Foods Tomato Ketchup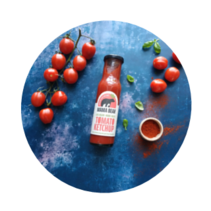 Join this group
Tomato Ketchup is one of the classic condiments and a long-established family favourite that goes with practically everything. This versatile sauce, ever-popular with kids, has come under increasing scrutiny due to its high sugar content as we become more conscious of the health risks of hidden sugars in our diets.
It was this concern that led County Cork based mother-of-three, Loretta Kennedy to create a healthier alternative and so, Mama Bear Foods was born! Working from her own kitchen, Loretta developed a recipe for a better and healthier ketchup. It used simple ingredients and much less sugar than the mainstream alternatives. It has up to sixty per cent less sugar than typical commercial ketchups and contains prebiotic fibre which encourages and supports healthy gut flora. It also contains an Irish bramley apple cider vinegar which gives it its unique taste.
Mama Bear Foods ketchup is currently available Nationwide through Aldi Ireland and through selected Supervalu and independent stores throughout Munster and Leinster.
We are looking for five MummyPages families to test the Mama Bear Foods ketchup and to tell us what you think.
If you would like to take part in this Mums Say Trial simply join this group and leave a comment below telling us about your and your family and why you'd like to take aprt. In the case we are oversubscribed, we will select five mums at random.