Reeling in another new year leads to a lot of us wanting to work on ourselves and improve our lives. One resolution we've seen becoming more and more popular is trying to be more sustainable when it comes to fashion.
Overconsumption has been highlighted as a big issue with people today, whether that be through clothes, skincare or make-up. Many of us want to try our best to not go overboard with our wardrobes this year, not only from an environmental standpoint, but also a financial one, as almost every necessity, including clothing, has been struck by inflation.
With that in mind, we've come up with five simple tips to follow if you want to have a more sustainable wardrobe- to help the planet, aid your storage struggle and work on saving money. Check them out below!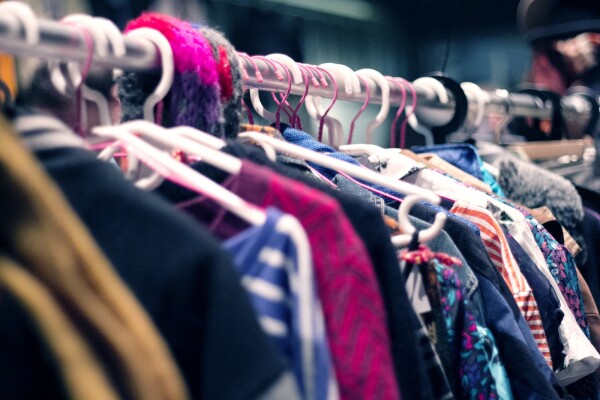 Don't follow trends
This is a hard one as social media is at the forefront of our lives and influencers often tempt us to stock our wardrobe full of fashion pieces that will eventually go out of style within a few weeks. For example, just because you see an influencer promoting a discount code for your favourite online retailer, that doesn't mean you have to buy something just for the sake of 'saving money' on something you wouldn't have even bought yourself in the first place.
We all like to look stylish but that doesn't mean following every single piece of fashion advice you see online. Remember when high-waisted skinny jeans, camo print, biker shorts and neutral colours were all trending? Of course you do because only recently they were the new trending style to have and now they're seen as being 'out of style'. Nowadays, baggy cargos and low-rise trousers are in, but if you buy a haul of new clothes for this trendy fashion season, how long before something new comes along?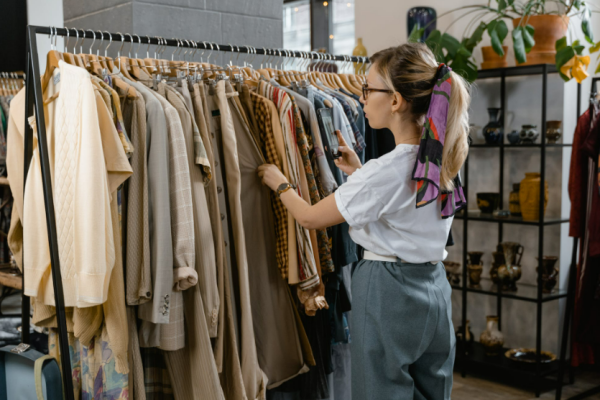 Repair worn clothes
We've all experienced the heartbreak of our favourite jumper getting a hole in it or the button pop on our most comfy pair of jeans. It's annoying and most of us will just throw away that item of clothing and replace it with something new, even though it can be easily fixed. If you're looking for sewing supplies, they're probably in a biscuit tin at your nan's house, or they can be bought cheaply in craft or tailoring shops.
If you're not handy when it comes to repairing things, YouTube will be your best friend, with tutorials on how to replace a zip, brighten up an old pair of white runners or how to hem trousers right at your fingertips. Rather than heading straight to the shops to buy a new fashion item each time it just needs minor fixes, work on repairing it yourself- it can be a fun project.
Swap clothes
Organise a day every few months with your pals to swap clothing items. Bag up clothes you haven't worn in a while or some items you know you won't miss and exchange them with your friends. This way you get a chance to try new outfits without the commitment of buying them and not liking it. You have the opportunity of feeling like you're getting new clothes when really you're only 'renting' them from your bestie, meaning none of you will be buying brand new clothes every time you want to change up your wardrobe.
30 wears test
This is a good way to know if you really need a piece of clothing. If you really want to follow a sustainable lifestyle, experts say that if you don't think you'll wear an item of clothing more than 30 times, it's not sustainable fashion. So, if you're planning on buying a complete new outfit for an occasion coming up, take the time to think if you will wear it again and again or if you're overconsuming fashion, and in turn, wasting your money.
Buy second hand
The idea of 'thrifting' has become very popular, with many people heading to charity shops to buy clothes instead of high-street retailers. This not only allows you to support a charity that would appreciate any donations, but you can also save money, as charity shops are known for marking down prices compared to other clothing stores.
Charity shops always have unique items and clothes you wouldn't regularly find in high-street shops, meaning there is more options to express your individuality and less chance of wearing the same outfit as somebody you know.