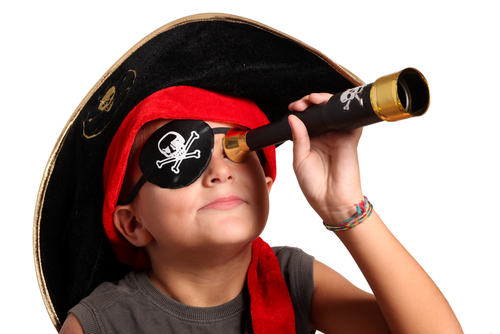 If your little one is a fan of Captain Hook, why not organise a pirate themed party at home for their birthday, or even just for fun. If it sounds a little daunting, to help you out, we have compiled a list of things that you can do and games that the kids can play.
Invitations
Get your son or daughter to design their very own pirate invitations. They can draw Captain Hook, a ship or even someone walking the plank. If they are inviting a lot of guests you photocopy the drawing – this will give you more time for pirate fun.
Decorate the house
To make a dramatic impact, decorate the house. Hang seagulls from the ceiling, have fish on the floor and even fly a pirate flag. You can really let your imagination go wild with this.
Fancy dress
Tell the guests that it is fancy dress and organise a 'best costume' prize. Alternatively you can supply pirate hats and eye patches and give them out to the children as they arrive.
You can't have a pirate party without a few pirate games. Here are five that the kids are sure to love:
Search for treasure
Fill a treasure chest up with cheap gold costume jewellery or gold chocolate coins and hide it somewhere in the house or garden. Draw out a map that the kids can follow – remember 'X' marks the spot. If there are a lot of guests, split them into teams and see who finds it first. Winner gets to eat the chocolate or wear the jewellery.
Walk the plank
Lay a flat piece of wood on top of two buckets and have everyone walk the plank. The first to get to the end without falling wins.
Make pirate swords
Without their swords pirates would be in danger, so make your very own. Get everyone to cut out a sword shape from a piece of cardboard – for the younger guests you can have this part done already. Supply markers and stickers and let them show off their creative side.
Pass the treasure
Just like pass the parcel, wrap up gold jewellery in numerous layers of paper and have each guest pass it around. When the music stops they can open a layer of paper. The person to open the last sheet wins.
Escape the sea monster
There are lots of monsters out in the high seas so make sure no one gets caught out. Appoint one party guest to be the monster and have them try to capture as many pirates as possible. The one to escape the clutches of the monster wins. The winner is then the monster.