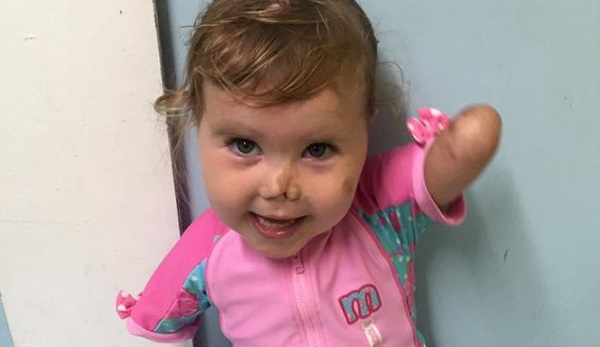 There are some stories that just tug at your heartstrings, and that of Harmonie-Rose Allen has practically brought tears to our eyes this evening.
Harmonie-Rose was just 11 months old when she was struck down with such a bad case of meningitis that she lost her arms and legs.
Now almost three, the tot – from Somerset, England – has made headlines and touched hearts through her charity page, Hope 4 Harmonie.
While photos of Harmonie-Rose will always show her with a beaming smile on her face, there is one thing that gets the little one down: she has never met another little girl who looks like her.
With her third birthday approaching, Harmonie-Rose's mum Freya decided to do something really special; she ordered a special doll that looks exactly like the quadruple amputee.
Unable to wait for Harmonie-Rose's upcoming birthday, Freya decided to present the 'Rebecca' doll to her daughter last week – and it went down a total treat.
"There is something special about this doll…She is just like Harmonie…A quadruple amputee! She has prosthetic arms and legs! And she's all the way from America, from the very famous shop American Girl, in New York!" wrote Freya.
Clearly, Harmonie-Rose is already head-over-feels for Rebecca, with her doting mother adding: "As you can see, she is already loved very much in this house, and I know she will be Harmonie's best friend forever."
SHARE to bring a smile – and maybe even a tear – to a loved one's face.