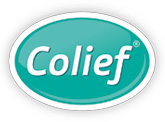 Colief Infant Drops is formulated to help give you and your baby relief from colic.
Colief contains lactase, an enzyme naturally occurring in our bodies that helps break down complex sugar lactose found in milk, dairy products, breast milk and infant formulas.
The immature digestive system of babies can have trouble breaking down lactose into more simple sugars causing discomfort commonly known as colic and characterised by lengthy periods of distressed crying in an infant aged under four months.
The technical name for this is Transient Lactase Deficiency. Colief Infant Drops can help the body break down the lactose into simpler sugars, glucose and galactose, making it easier for your baby to digest their feeds.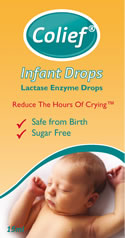 Studies have shown that the hours of crying may be greatly reduced when babies are fed their usual milk treated with Colief Infant Drops.
The drops can be used every time you feed your baby. At around three to four months old a baby's digestive system will naturally cope better with lactose and usually symptoms will disappear. However, if symptoms persist you can use Colief Infant Drops.
Colief contains an enzyme which is destroyed by heat so for best results use Colief between room temperature and body-heat, which is neither too hot nor too cold. Always follow the manufacturer's instructions carefully when making-up formula milk.
If your baby's crying persists or if you have any concerns regarding your baby's health or wellbeing, you should seek professional medical advice without delay.