Iron is an essential element for blood production and supports many other bodily functions. We need to ensure we maintain optimum iron levels to function at our best.
As our bodies don't produce iron, we need to make sure we include sufficient iron as part of our healthy diets. Some peoples' lifestyles can mean that they struggle to get the iron they need from their diet alone. Taking an iron supplement such as Spatone can help top up your iron levels.
Spatone® Iron-Rich W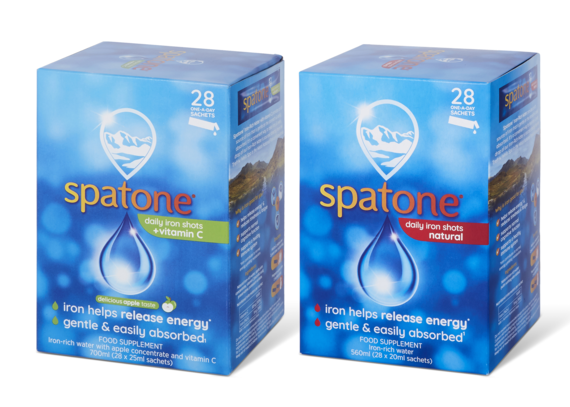 ater is a natural supplement which is easily absorbed and gentle on the stomach. Packed in a convenient format, Spatone® provides you and your family with the iron you need to get the most out of life. As Spatone® has higher absorption it means less unabsorbed iron enters into the intestinal tract which cause fewer unpleasant effect often experienced by those taking iron supplements such as constipation and stomach irritation.
Enuring your body has enough iron will help to:
- form and oxygenate our blood cells and haemoglobin
- convert food to energy
- maintain a normal immune system
- contributes to normal cognitive function
Why not sign up for your FREE sample from Spatone and try it out? You will receive a months' supply of Spatone Apple flavour. Just fill in your details below. (There are a limited number of samples available, in the case we are oversubscribed, we will select recipients at random)