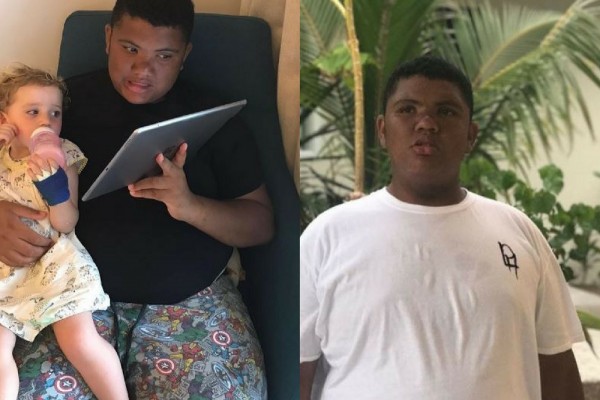 Katie Price and her family are currently on holidays in the Maldives but her mind is on her work, specifically her petition against online bullying.
As a reminder to fans about Harvey's ordeal with online trolls, she shared a snap of the youngster watching cartoons with little sister Bunny.
Katie appealed to fans to "Please keeping signing the petition to support my boy, let's make online bullying a criminal offence."
Katie started her campaign after enduring years of bullying and trolling directed at her and her family.
Disabled Harvey bore the brunt of the nasty trolling, with several bullies creating cruel memes of the youngster and posting them to social media.
Harvey suffers from Prader-Wili syndrome which causes him to overeat and have poor control over his impulses.
He has septo-optic dysplasia, which is a rare congenital illness which affects the optic nerve and pituitary gland.
Because of this, he is blind and is also on the autistic spectrum.
In the past the 14-year-old has been the butt of crude jokes made by comedian Frankie Boyle as well as the nasty online trolling.
Katie admitted that caring for Harvey can be difficult and his behaviour can be unpredictable but she says she wouldn't have it any other way.
She also said she has to keep an eye on Harvey when he plays with his younger siblings as she is afraid Harvey might accidentally hurt them.
Katie's petition now has over 200,000 signatures which is an amazing achievement.
The government will consider her petition for debate in parliament as it has over the required 100,000 signatures.
She is currently waiting for an official government response which should be in the next week or so.
Katie wrote: "This does not affect just high profile people it affects everyone from every walk of life from young children, teenagers, people at work, husbands and wives."
"This abuse includes racism, homophobia, body shaming and a whole range of other hate speech."
"This petition is an important topical issue and I want it to help bring justice to everyone who has ever suffered at the hands of trolls."
"Help me to hammer home worldwide that bullying is unacceptable whether it's face to face or in an online space."
Underneath another photo of Harvey, Katie thanked fans for their support and assured them she would keep fighting on their behalf.
Keep up the good work Katie!