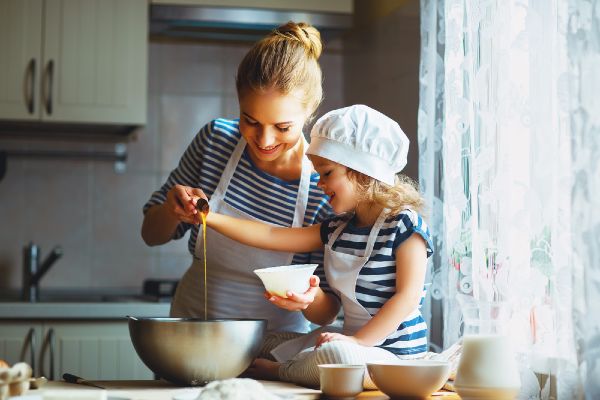 Think back to your childhood – where does cooking and baking come in the list of your most treasured memories with your mum? If you are anything like us, then it will be pretty high.
While our little ones may be exactly that – so, so little – that doesn't mean they can't get involved and help out when you're preparing your meals.
In fact, our children can often end up being the best chef's assistants we could ever ask for – not only are they so eager to help, but they can make the entire process so much more fun!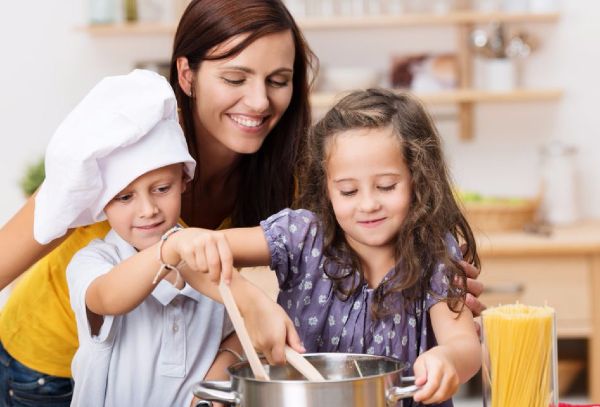 Here are 10 things your little ones can help you with in the kitchen:
1. Juicing
We're not talking about using those fancy machines that take an ENTIRE orange and turn it to pulp in seconds – we mean the good old-fashioned squeezer! This is hard work, so your little one will feel like they have made a big contribution to the meal prep.
2. Spreading
Is there anything more satisfying than spreading that jam and cream out for your Victoria Sandwich? Mouth-watering! Your little one will love getting involved in the spreading process for cake decoration, pizza making, and beyond.
3. Washing
The washing process is so important, particularly when you're preparing fruit and vegetables. By getting your little ones to help to wash the ingredients, not only are you getting a big help in the kitchen but you're teaching them an important lesson about food preparation and safety.
4. Mashing
This is one that they are sure to LOVE! Kids love anything that involves squishing and squashing, and watching their potatoes and carrots transforming into fluffy deliciousness will definitely pique their interest. Be warned, though: this one might get a little messy!
5. Pouring
A little preparation tip: measure out your liquids before asking your little one to pour – you never know when that bottle or jug is going to tilt over more than it should! The pouring section of the process is always an important one, and your kids will love watching the transformation of ingredients into sauces, batter and more.
6. Mixing
Who doesn't love giving the spoon a mix? One of our most treasured memories is stirring the bowl, watching all of those ingredients coming together, and your little ones will enjoy having such an important role in the cooking or baking process.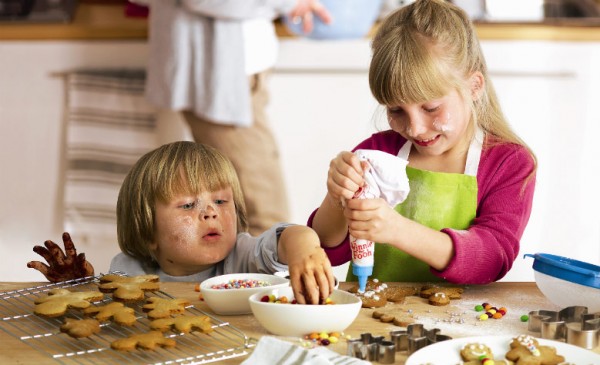 7. Shredding
If your little one is anything like our little rascals, then they LOVE tearing up anything they can get their hands on: paper, letters, important bills – the list goes on! They will love the liberation of being allowed to shred the lettuce and leaves for the salad.
8. Crushing
While certain parts of the cooking process can be downright laborious to us, our children see them as a fun challenge – so why wouldn't we enlist their help in the kitchen? While you have zero interest in spending five minutes trying to crush the garlic for the pasta, they will consider the crusher a fun new tool that needs to be investigated.
9. Stirring
When there are a hundred-and-one other things to do, stirring the sauce so that it doesn't clump is the last thing on your mind - but, without it, the entire meal will go to the dogs. This is where your loyal and enthusiastic little chef's assistant comes in handy! What you consider to be a boring but necessary task, your child will love.
10. Taste-testing
OK, so this one, we don't need so much help with - but is there anything nicer than seeing your little one literally bouncing with excitement to taste the creation they helped to make? And, let's face it, children are our most honest critics - if it tastes awful, they will be the first ones to let us know!