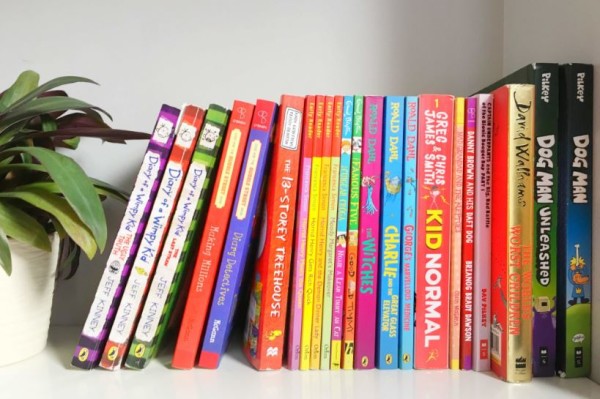 My eldest just turned eight and the last year has seen his literacy soar. It was a slow start though.
He didn't seem bothered with reading books autonomously for a while. Like most kids his age, he was over the large picture books but possibly a little intimidated by the prospect of tackling the novel-sized texts alone, so he sort of backed away for a bit. The English teacher in me miraculously resisted the urge to panic.
It wasn't until he encountered a bizarre, crime-fighting canine/human hybrid that his attitude changed and that was it. He was hooked. He was off. He was reading. Cheers, Dog Man!
The usual disclaimer: I'm not here to tell you your business, nor am I claiming to be any kind of book expert. I'm just sharing some of the reads that were hits here; ones that managed to hold his attention and (hopefully) ignite a life-long love for books.
1. The Danny Brown Series by Brianóg Brady Dawson (Age 6-8)
If kids up to divilment is your thing, then Danny Brown's your man. He runs off with his granny's teeth, buries his toothbrush and manages to unwittingly terrorise members of his family, but always with good intentions. It's pitched perfectly at younger readers with large text and even larger illustrations. A great place to start for those transitioning from picture books.
2. Horrid Henry Early Readers by Francesca Simon (Age 6+)
This guy is a grade-A ass. Nasty, selfish and utterly obnoxious, he's the character kids love to hate. Sadly my older pair can't get enough of him. These are some of the most thumbed books on our shelf. In fact, they were the first novel-sized books that my son showed any interest in. They've the perfect combination of colourful illustrations and accessible text for readers starting out and youngsters will delight in his unrelenting mischief. I know parents who've banned Horrid Henry entirely and I can see why. Ugh.
3. The Famous Five Colour Reads Collection by Enid Blyton (Age 6-8)
Despite the fact that there's little chance that our Generation Alpha kids can relate to the drinking of lashings and lashings of ginger beer and tech-free living, The Famous Five books – first published almost 80 years ago – continue to delight. Four middle-class youngsters and a dog regularly stumble upon crime and strange happenings in the British countryside. Well-defined, likeable characters and action-filled plots involving smugglers, shipwrecks, treasure maps, abandoned houses and suspicious strangers never get old.
The Colour Reads Collection combines shortened original Blyton stories with colourful illustrations, making the series more accessible for younger readers. The perfect in-betweener.
4. The Mad Grandad Series by Oisin McGann (Age 7+)
Lenny's grandad isn't like other grown-ups. He's a little bit mad, and sometimes does strange things, like dancing to the news on the radio, or saying he can see out of his nose. Together they go on wacky adventures; they travel through space, encounter mermaids and river creatures, battle a robot gardener and in the newest offering, they take on the multi-handed Kleptoes - thieves who live deep inside Grandad's old sofa. Engaging illustrations, large text, zany plots and accessible language made these books a big hit here.
5. Dog Man by Dav Pilkey (6+)
Ah, Dog Man! I genuinely believe that this madcap graphic novel is hugely responsible for my son's love of reading. He was lost in the original book for hours, chuckling and snorting over the colourful pages and then begged for the rest of the series as soon as he was done. Bad puns, toilet humour and general daftness dominate. Oodles of fun if you're seven.
6. Captain Underpants by Dav Pilkey (7+)
When he declared that he now had a 'favourite author' in Pilkey, we went straight for the Captain Underpants series. Two pranksters use hypnosis to trick their principal into thinking he's the crime-fighting Captain Underpants and chaos ensues. Comic-style illustrations – this time in black and white – make the book engaging for those fazed by too much text. Again, comedy gold if you like humour that involves farts, poo, wedgies, etc.
7. Cass & the Bubble Street Gang by Erica McGann (Age 7+)
The winning formula of brave youngsters, secret clubhouse, mystery and adventure is at play again to excellent effect in this series about Cass and her pals Lex and Nicholas who, together make up The Bubble Street Gang. My son loved Making Millions, recently picked up The Clubhouse Mystery in the library and is ready to tuck into the newest instalment, Diary Detectives. While the illustrations are minimal, the text is large, so it's easy to read and doesn't overwhelm. The stories celebrate friendship and adventure and the female protagonist makes a nice change. Perfect.
8. Diary of a Wimpy Kid by Jeff Kinney (Age 7+)
Is any such list complete without the inclusion of this one? My son devours these books, despite the fact that some of the Americanisms, the story lines and the themes have to be over his head. Nonetheless, he likes them and laughs lots. I think he'll probably read them over and over for years and take more from them every time. To be fair, they are funny.
I recently picked up The Wimpy Kid Do-it-Yourself Book (an interactive book that lets you draw your own Wimpy Kid-style cartoons, fill in facts and lists and write your own stories) and, unexpectedly, it was a MASSIVE hit. He spent the entirety of two 2.5-hour flights happily doodling in it. I know. We were stunned too.
9. The 13-Storey Treehouse by Andy Griffiths (Age 7+)
This one was recently recommended by a friend and my son loved it. In fact, I've never seen him finish a book in such a short space of time and he can't wait to get his hands on the rest of the series. It's laugh-out-loud silly, unpredictable and completely surreal. Andy and Terry live and write in the world's wackiest tree house. They're attempting to finish their latest book amidst such distractions as mutant mermaids, sea-monkeys and flying cats. The combination of text and cartoon-style illustrations is, once more, a winner for those transitioning from short chapter books to junior novels.
10. Roald Dahl's Everything. Obviously. (7 – 99)
We started with the shorties: George's Marvellous Medicine, Fantastic Mr Fox, The Twits, The Magic Finger and Esio Trot. Then came The Witches (which enthralled him more than the others combined) and then came the rest. I bought the entire collection for a song from The Book People and every time there was a lull in reading activity, another one was fetched from the attic and off he went again. I probably need to do more of this kind of bulk book-buying, don't I?
UP NEXT?
More Walliams (he loved the few he's read so far), more from the Kid Normal series by Greg James and some Tom Gates. I'd be delighted to hear some recommendations for his age group in the comments below, if you have any. What are your kids reading? Do they have favourites?
I often get sent books to review from publishers. I don't write about everything I receive. I wasn't paid to include anything on this list, and I'm an honest sort, so if I say I liked something, then I did!