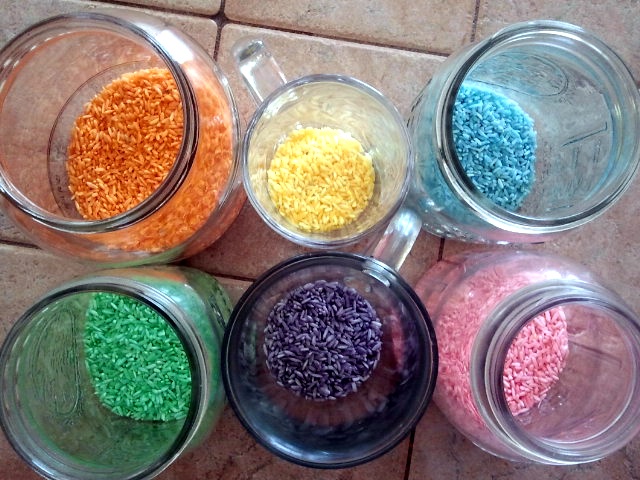 Rice isn't just for eating and throwing at newly-married couples. This pantry staple has any number of other useful purposes around the house.
1. Scouring pad substitute
You can put your rice to work washing the dishes. It's especially usefully to get at those hard-to-reach bottoms of narrow-necked vessels, like milk bottles and flower vases. Simply add rice, soap, water and then shake and swirl - the rice acts as a scouring pad.
2. Phone disaster saviour
Has your little one dropped your mobile phone in water? Try burying your soggy electronic device in a bowl of white or brown rice - it will absorb a surprising amount of moisture and may just save the life of your gadget.
3. Coffee grinder cleaner
While you're on your cleaning mission, rice can also help you sort out your coffee grinder. Wipe it clear of debris then add enough rice to cover the blades. Then get grinding - the rice will absorb all the lingering oils that carry the coffee aroma.
4. Make a musical instrument
To make a pair of maracas for your budding musician, fill two small plastic tubs or Tupperware containers roughly half full of rice. Small plastic juice containers with handles also work well.
5. Salt shaker de-clogger
It's annoying when you give your full salt shaker a good shake, only to have two solitary grains fall out while the rest remains a hard chunky mass. Humidity is the cause, but a pinch of rice added to your salt shaker will suck up moisture.
6. Make a heat pad
Fill an old sock with a couple of cups of rice and then tie or sew up the end. Pop it in the microwave for a few minutes. This is a perfect prop for soothing a stiff and sore neck or back.
7. Ripen fruit fast
Store your unripe fruit in a container of rice to speed up the process, but check on them a couple of times a day, as it works pretty fast. You can even cook with the rice afterwards.
8. Make your own glue
Anyone who has left rice boiling on the stove for too long knows that it turns glug-like after a while. Well, leave it even longer and it will turn from glug to glue. Just keep boiling down white rice until it degrades and releases the starch. This is perfect for papier mache artwork.
9. Pet toys
Make a little toy for your furry friend by getting an old sock and cutting about 15cm off from the toe area. Fill it with a mix of rice and catnip, sew up the other side for the perfect little 'bean bag' toy for your kitty.
10. Face saver
Rice water makes for a fantastic facial serum thanks to its high Vitamin E content, which is said to soften the skin. You can either reserve the water from rinsing your cooking rice, or make an extra-strong solution by bringing half a cup of rice to a boil in two cups of water. Brown rice works best for this. Remove the rice and allow the liquid to cool, then use a wash cloth to rub it into your face before rinsing clean.
Image via Pinterest.