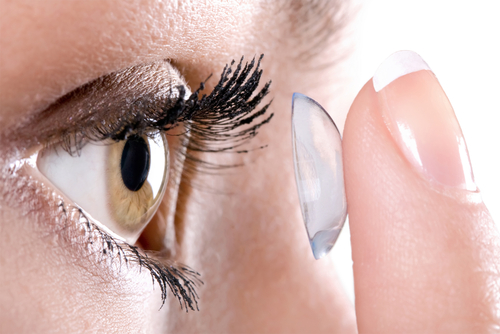 Contact lenses are great, they give you scope to go really dramatic with your make-up, especially your eyes, without it being hidden behind glasses.
However, there are a few things you need to keep in mind when it comes to your beauty regime and contact lenses, here are ten of them:
First things first, for hygiene reasons you need to wash your hands before going near your eyes.

Put your lenses in before you put on your make-up. This will help prevent you getting dirt or residue on your lens which can make it hard to see through.

Take them out before you take off your make-up.

Don't wear false lashes. While it's ok to wear them every now and then they can actually irritate your eyes.
Avoid mascaras that contain fibres which become flaky. They can get trapped under your lens and damage them.
Use hairspray before putting on your lashes as it can irritate your eyes.
Apply liner along the outer lash line not inside, as it can cause an infection.
Stick with cream shadows to avoid powder getting into your eyes.
Try to choose pressed face powders over loose ones, again, to stop it getting into your eye.
Choose products suitable for contact lens wearers or go for hypoallergenic ones.