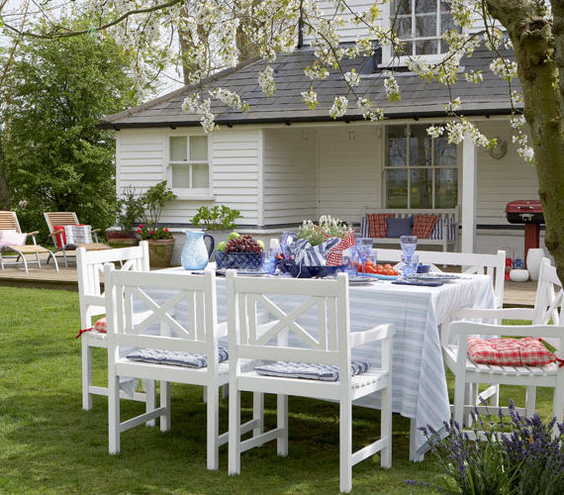 When the sun is out, it's a shame not to make the out of your outdoor space.
Invite a few of your favourite people around, throw on some music, and lap up the long, lazy evenings.
Here are a few decorating ideas to spruce up your outdoor space.
1. Get back to nature
Re-create a room without walls in your garden. Create an intimate gathering space that's prepped for entertaining by surrounding the table with a wicker sofa, freestanding umbrella, and fire pit.
2. Get creative
Makeover an outdoor space with a few items (day bed, potted plants, Chinese lanterns) that will make the space comfortable and stylish. Thinking creatively can also help you stick to a budget. There's no reason why a trunk from inside can't step in as your outdoor coffee table.
3. Garden party
Dining alfresco is about gathering family, entertaining friends, and escaping from your typical daily routine. Be smart about your outdoor style and choose weather-resistant furniture, coverage from the sun, and a solid base for setting up your table.
4. Patio primer
Give your outdoor space a fresh face by sticking to a monochromatic palette. You can pull off a polished look without overdoing it. Choose the essential pieces (wirework round table, umbrella, stools) in a contemporary grey and white colour scheme.
5. Tropical punch
Want to add a touch of fun to your outdoor space? Cue the colourful accents. A terrace gets a bold pick-me-up from cushions in vibrant colours (tangerine, fuchsia) and modern prints like stripes, and florals.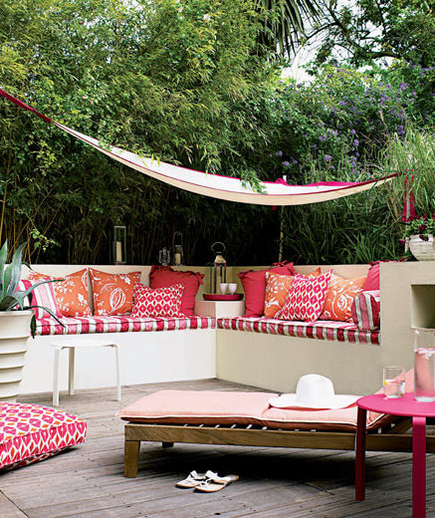 6. Cosy quarters
Achieve a sense of privacy in an urban space by enclosing it with a tall wooden fence. Prioritise how you plan to use this area before making any decorating decisions. For example, if it's for dining and entertaining, make sure the grill and table are your first key pieces.
7. Country living
When it comes to outdoor dining, anything goes. But to capture an easygoing escape-to-the-weekend-home feeling, make an attempt to separate yourself from your daily routine. Start by setting the table and chairs on the lawn and away from your home, which will create a dining experience that is unique and unexpected.
8. Seeing red
Want a modern and budget-friendly trick that won't involve an entire patio makeover? Focus on a few decorative elements (grey drum shade, slip-covered chairs) that strategically weave a splash of red throughout the dining space.
9. Sunny delight
Dreaming of a lounging area for reading, writing, or hanging with guests? Decorate around the key piece: the sofa. A traditional rattan couch gets an instant transformation by tossing on colourful plush pillows and hanging an assortment of festive glass lanterns.
10. Island style
Even a corner can explode with seasonal appeal. Set up a red bistro table, surround it with green plastic chairs, and hang a graphic piece of art on the wall.
Images via Pinterest.