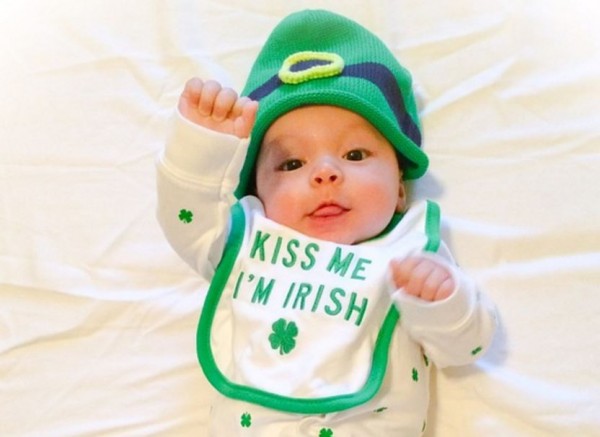 The world turns green on St. Patrick's Day, and you don't have to be Irish to want to celebrate the very important date.
In honour of the patron saint of Ireland, why not choose one of these unique baby names for your little one if you're due around March 17th.
Girls:
1. Áine – In Irish legend, Áine was the Queen of the Munster fairies
2. Aoibh – The mother of the children of Lir (an Irish legend)
3. Bébinn – A goddess from ancient Celtic folklore
4. Clodagh – The Rover Clodagh runs through Co. Tipperary and Co. Wexford
5. Eireann – Meaning Ireland
6. Esmeralda – Meaning prized green gemstone (perfect for St. Patrick's Day)
7. Ireland – If Alec Balwin can name his daughter after this beautiful country, why not us!
8. Shannon – The river Shannon is the longest river in Ireland
9. Fate – EVERYONE knows about the luck of the Irish!
10. Fionnuala – The daughter of Aoibh and Bodb (Children of Lir)
11. Medb – The great warrior Queen of Connacht
12. Niamh – Meaning radiance; Niamh lived in Tir-na-nÓg, the land of eternal youth, with Oisin
13. Saoirse – It means freedom and liberty, and thanks to Saoirse Ronan it's become easily pronounced across the globe!
Boys:
1. Ailbe – An old Irish word meaning white
2. Aaron – After the Aran Islands
3. Barry – Associated with the Patron Saint of Cork, St. Finbar
4. Cuchulainn - The warrior, who according to legend, had superhuman strength!
5. Breck - Meaning freckled
6. Clover – The symbol of Ireland (Shamrock doesn't have the same ring)
7. Denver – Meaning green valley
8. Fionn – Fionn MacCool was the leader of the Fianna in Irish folklore.
9. Forest – A shade of green (there are 40 of them!)
10. Greene – Well, Ireland is all about the colour green
11. Seamus – Seamus Heaney was one of Ireland's most famed poets
12. Bodb – The king of the Tuatha Dé Danann and father to the children of Lir
13. Brian – Meaning noble and strong, the High King of Ireland was called Brian Boru
SHARE with someone expecting a baby.