From knowing what you are expecting to choosing the name being pregnant is an extremely exciting time. And while some mums have their little one's name picked before they even know what they are having, others can feel a little stumped trying to settle on one.
If you are expecting a baby in the autumn why not choose one from our boys or girls list.
Girls:
1. Autumn – We absolutely love the sound of this; perfect for your little one born in the fall.
2. Apple - The orchards are full of fruit at this time.
3. Arista – This means 'harvest' –the sound of autumn.
4. Bramble – Visions of picking blackberries on a warm autumn day springs to mind.
5. Constance - Meaning 'firm of purpose', this sums up how we feel at the start of September.
6. Ebony – Autumn is not just filled with oranges, browns or reds, black makes an appearance as well.
7. Emerald - While most trees lose their green shade, evergreens keep the colour bright and alive.
8. Fern – This plant that loves shade sounds exactly like autumn should.
9. Florence - Meaning 'all's well that ends well', this is perfect for the end of summer.
10. Hazel – There are plenty of hazelnuts all over the ground at this time.
11. Jade - This jewel has six natural colours - green, lavender, red, yellow, white and black - that are all the shades of autumn.
12. Laurel - A green-grey colour, it reminds us of the cold evenings.
13. Maple – Full of reds and oranges, the maple tree reflects the true colours of autumn at this time; perfect for your little September baby.
14. Roux – A beautiful, striking colour, red is the ultimate shade of autumn.
15. Saffron - The autumn is all about colours and this golden yellow is everywhere at this time of year.
16. Sage – A beautiful colour, it is also a staple herb used during autumn and winter.
17. Sienna – This orange-red pigment is perfect for your October baby.
18. Tessa – Meaning 'to harvest', this is a great name for this time of year.
19. Violet - We love this beautiful purple shade.
20. Willow – The leaves turn a beautiful red and yellow during the autumn.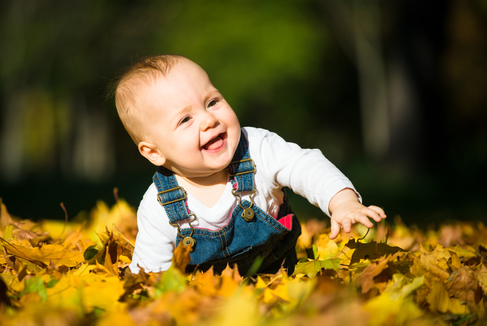 Boys:
1. Auburn – While this beautiful autumn colour definitely works for both, we love it as a boy's name.
2. Ash – After the Ash trees which line our streets and roads during the autumn.
3. Aster – The Aster flower blooms in early fall.
4. Bruno – A brown colour; we love how this gives us visions of woodland strolls in the rain.
5. Cedar – During this time of the year the cedar tree us a beautiful colour.
6. Dakota – Made famous by actress Dakota Fanning, it also works really well for a boy's name.
7. Demeter – Meaning 'earth-lover' ; we love how this sounds.
8. Forrest – Meaning 'from the woods', it sums up all feelings of autumnal walks.
9. Frost – Meaning 'born during cold weather', this is perfect for our autumn days.
10. Garner – This means 'to harvest grain' and is ideal for the cooler season.
11. Heath – This name brings to mind hills and farm lands that are allowed to grow wild during the cooler months.
12. Hunter – Animals now hunt for food to keep them going throughout the winter.
13. Jet – While browns, reds and oranges are the main colours, blacks also make an appearance throughout this time of year.
14. Oakley – It looks and sounds like autumn.
15. October – The last month of autumn, this sounds so cool.
16. Oliver – The olive tree is in abundance during this time of year.
17. Radley – Means 'red meadow'; perfect for this time of year.
18. Reed - This Scottish name means 'redheaded'.
19. Rowan – Another name that means red – the ultimate colour of the season.
20. Rye – 'Island meadow'; this brings to mind farmers harvesting before the winter.