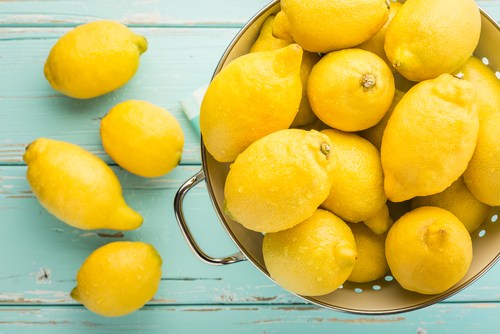 Lemons are not just for cooking, in fact, they make such a great beauty tool that you will wonder why you never used them on your face before.
Here are five uses for lemons that don't involve eating:
Wrinkles
No need to have a whole dressing table full of anti-ageing potions, all you need is some lemon juice and a little sugar. Simply combine the two together and massage into your face for immediate anti-wrinkle cream.
Steam clean
Lemons are great for greasy skin sufferers as they give your skin a deep cleanse. As you would when you have a head cold, fill up a basin with boiling water, cut the lemon in quarters and pop into the water. Lean your head over the water and place a towel over your head.
Face mask
Make your very own facemask at home by mixing a little lemon juice with yoghurt and porridge oats. Leave it on for about five minutes before taking it off for clean clear skin.
Remove yellow stains on nails
Leaving nail polish on for too long can leave your nails with a little yellow tinge, especially in your toes. Simply soak your nails in a bowl of water mixed with lemon juice or rub the inside of a lemon onto your nails. It is also petty good at making them strong and healthy.
Hair lightener
Apply a little lemon juice to damp hair, sit in the sun and let the UV rays do their magic. It also helps if you suffer from dandruff.