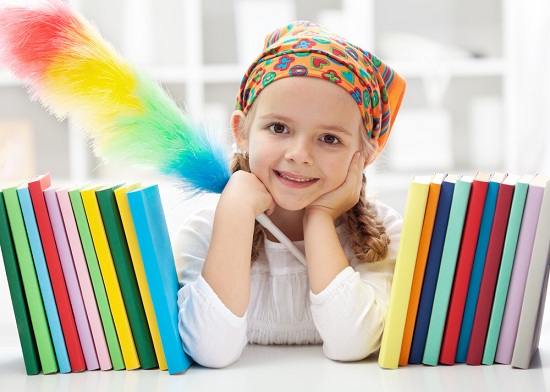 Getting the kids involved with a little housework when you're super busy, is a win-win for both them and mum.
Giving the kids a few chores will teach them a bit about the meaning of shared responsibility.
There are even some jobs around the house that kids can actually do better than mum, and telling them this may encourage them to take extra pride in their work.
1. Vacuuming under the beds
Put the small brush attachment on the vacuum cleaner hose or give them a hand-held vacuum, then send them under the bed to hoover up all those dust bunnies.
2. Cleaning skirting boards
An old sock and a spray bottle filled with one part white vinegar to three parts water is all the kids need to give those skirting boards a good clean. Spray and wipe, spray and wipe, and repeat. The dirtier the skirting boards the better, because then they can see what a big difference they're making.
3. Wipe out the bottom kitchen cupboards
The cupboard where you keep your pots and pans can get a little grubbier than the other. Get the kids to help you empty the space of its contents. Kit them up with the vinegar spray and an old sock and let them go to town with the cleaning and wiping.
4. Tile cleaning
This is kind of like letting the kids paint, but the mess they make is actually cleaning your tiles. Mix up a bowl of bicarbonate vinegar paste - two parts bicarbonate of soda to one part white vinegar - and hand that bowl over to the kids along with a paintbrush and an old dish brush. Get them to paint the tile grout with the mixture, leave it to do its magic for up to 15 minutes and then give the tiles a scrubbing with the dish brush, followed by a rinse and a wipe down with an old rag.
5. Dusting under furniture
Give the kids a bucket for collecting and get them to use their little arms to reach under with a dust brush and sweep out all the bits and pieces from under there. Finish off with a wipe down of any hard floors with the sock and vinegar spray or a quick go with a small vacuum head.
Image via Pinterest.