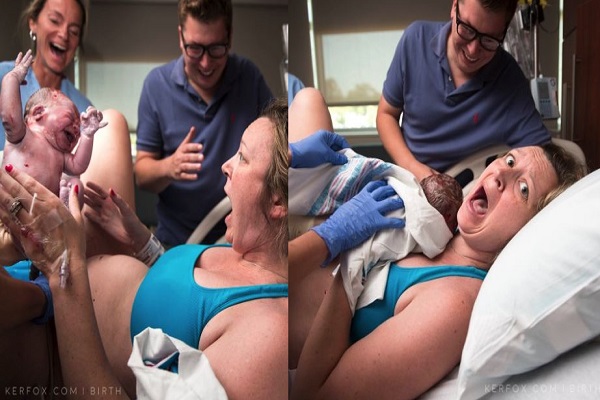 The birth process is always going to garner strong emotions, but the photo of this very expressive mum is one of the best birth images we have EVER seen!
Dara Crouch recently welcomed her second child, a son. While the birth of any and every child is unique, there's something extra-special about this one – this child was the first boy born into the Crouch family in 50 years!
While Dara didn't know her baby's gender before holding him for the very first time, she admitted that she was totally expecting a girl – especially in light her family's history.
She told Popsugar: "It never really set in that this baby could be a boy until just a few minutes before he was born. I started freaking out, because I had never been around a little boy and didn't know much about raising one.
"When my midwife, Melissa, held him up, I was in complete shock! It was a boy – I lost it! I was so excited, and so in love. I couldn't imagine it being any other way."
Thankfully for Dara – and for the rest of us – her birth photographer, Neely Ker-Fox, captured the moment of excitement and surprise with her camera.
In a split-photo that has since gone viral on the official Ker-Fox Photography page, Dara can be seen freaking out as she is handed her beautiful baby boy.
"IT'S A BOY! Hands down the best reaction in 100+ births and six years of doing this!" wrote Neely, in the caption.
As you can well imagine, the images have garnered quite the response from the Facebook community.
"Girl, this is hilarious…This is exactly how your face will look when you reach into his little pockets and feel that frog that he brought you," joked one follower. We love it!
Another chimed in: "And THIS is why you should hire a birth photographer! LOVE this!" We could not agree more.
Responding to a gorgeous comment about everyone's expressions in the photo, Neely added: "I wish I had a 360 degree camera to have gotten everyone's faces. Melissa, her midwife, is delivering; her best friend, who is also a LD nurse, was working her birth all day. It was magical."
As if Dara and her husband, Eric, needed anything more to make this birth memorable! This will make for a wonderful addition – framed – to their mantelpiece.
Congratulations to the family on their amazing, internet-breaking news! You can check out the rest of Neely's incredible work through this link.