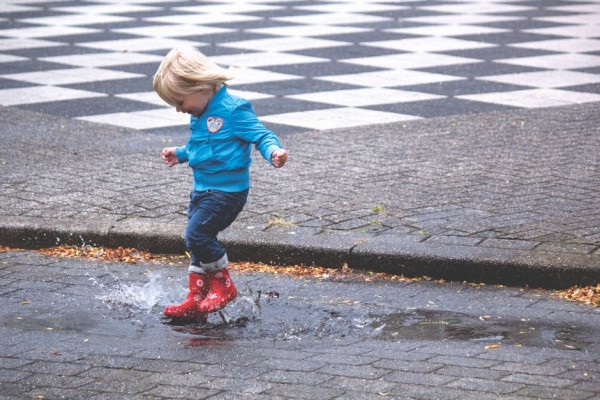 It's started.
The weather is changing and clothing shops are starting to fill with jumpers and cozy coats. Time to get ready to batten down the hatches. But Winter doesn't have to mean zero fun! Here are a few things I've put together to do with your little ones, no matter the weather!
1. Puddle jumping!
On the days when its rainy and cool, grab your raincoat and wellies and get out there! This is such a lovely thing to do and lets kids be kids, and be as messy as they want! As Peppa Pig would say - "lets jump in muddy puddles!" and if it's good enough for her, it's good enough for us! Also, did you know that ducks love some yummy oats? Pop them in a tub for small hands and away you go!
2. Baking!
On those days when you just really do not want to face a particularly stormy day, what more of a lovely way to bond than to bake together? Make some cookies and pair them with a nice glass of milk - delicious!
3. Parent and Toddler Group!
If you're unsure of where your local groups are, research! These groups are fantastic for getting you out of the house for a couple of hours. Parents get a cuppa and some adult chat, while your little ones gets LOTS of toys to play with and lots of new buddies. Winning combination right there!
4. Cinema!
Check with your local cinema for Kids Club or Newbies Club where you can bring your children/babies to the cinema for some enjoyable family time! This may also encourage you to throw in some breakfast or lunch elsewhere beforehand, and again, get you out and about making it a super date with your little one.
5. Movies in Bed!
Sometimes it's just nice to stay in bed and listen to the wailing of the wind outside your window. Grab all the blankets and pillows! Get into your pyjamas, grab some warm milk and treats. Snuggle up tight and make it a day of Disney!
6. Make some comforting treats together
Overnight Oats
What you'll need:
1 cup of oats
1 cup of milk of your choice (I use full fat so its suitable for the toddler!)
Fruit of your choice
1 tsp cocoa powder
1 tbsp honey (suitable for children over 1 year)
What you'll do:
1. Grab a clean mason jar. These can be bought in discount stores, and while some have straw holes in the lid, these can be covered with some baking paper from underneath if you need to transport the jar!
2. Pop all ingredients into the jar starting with the oats, cocoa powder, fruit and then milk.
3. Put the lid on and shake it up until it's all mixed up.
4. Leave in the fridge overnight, then stir with a spoon the next morning. Add fresh fruit or milk as desired, and enjoy!