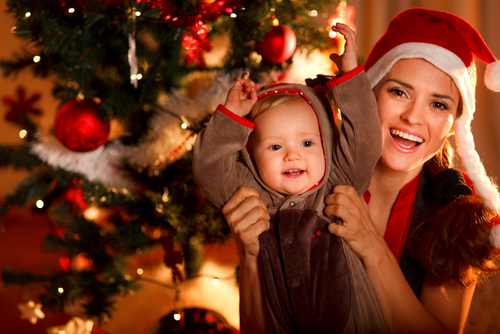 Christmas is a fun time to be a mum and if this is your first one with your little one, now is the time to start a few traditions with your infant that you can do every year.
Open an advent calendar
December the first is the day to start opening the advent calendar so why not invest in one that will stand the test of time. Until your baby is old enough you will have to open the little doors for them, but have them there with you when you do and eventually they will be old enough to do it themselves.
Read a Christmas story
Reading to your children is one of the best things you can do and every child loves books no matter their age. If you have your own Christmas book, why not read it to your little one and carry the tradition on or pick up a new one in the shops and start the tradition off. Every year you can read the same story to your son or daughter and whenever they see it they will have fond memories.
Take a picture beside the tree
As soon as you put the tree up make sure you take a picture of your little one beside it. As the years go on, you will notice just how much they have grown and changed in a year.
Have a festive family picture
Just like the picture beside the tree, each year take a festive family photo in the same spot of the house - beside the tree would make a great location. As time passes you will notice just how you have all changed or even how big your family has grown ever since you took the first picture.
Go visit Santa
While they are no doubt too small now to understand what is going on, visiting Santa is actually a highlight for so many children so why not make it a family tradition. You can make a whole day out of it: visit Santa, get the tree and decorate the house.
Go see the Christmas lights
The city centre is full of gorgeous Christmas lights that will enthrall your little one. Even though they are still quite young now they will be fascinated by the flickering and twinkling lights.