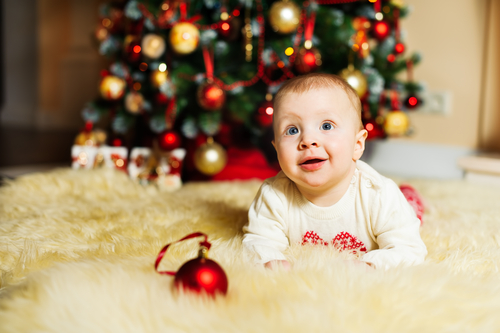 Baby's first Christmas is a very special time of year, but unfortunately it can go by like a blur. To ensure you don't miss or forget anything, here are ten pictures that you definitely need to take this festive season.
Of your baby beside the Christmas tree
This is a great shot that you can take year after year to not only remember your little one at Christmas but also to document their growth and changes. Why not take a picture of them playing beside the tree or of you holding them.
Sitting on Santa's knee
Even if your little one is only still a few weeks old, taking them to see Santa is definitely one of the many highlights for a lot of mums. It really helps to enhance the Christmas spirit and even if your little one ends up shedding a few tears, which is very likely if they are only young, it is definitely a picture that you will cherish forever.
The obligatory funny onesie shot
Christmas pictures don't all have to be sentimental so why not head out to your local shop and pick up an hilarious Santa, reindeer or even elf onesie and pop it on your little one. The funnier the better for the photo.
Wearing their first Christmas outfit
No doubt you will go all out for your little one's Christmas and they will get a outfit for the special day so make sure you take a picture of them in it.
In town with all the lights on
The city centre or your local town will no doubt be covered in gorgeous twinkling lights so make sure you take your little one into town and get a picture of them beside it. This is a shot that will capture a moment in time of your little one and the street that you are standing on forever.
You reading their first Christmas story
Make it a tradition to read your little one a Christmas story every year, but don't forget to take a shot of you reading it to your youngster.