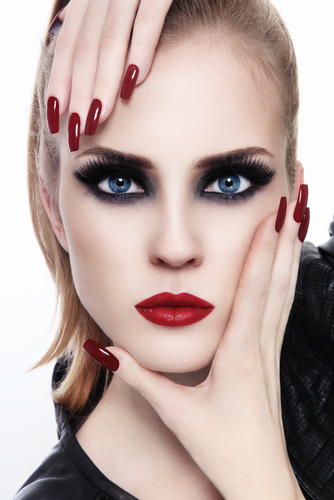 A sultry eye will complement any outfit and a smokey eye is ideal for evening time. Unlike popular belief, it is actually quite easy to do and you should have it done in about ten minutes, if you really focus.
Step one:
Prep your eye. Use a little face primer along your eyelid to help the eyeshadow stay put.
Step two:
Make sure any dark circles are hidden so use concealer. You don't want to end up looking like you have a black eye.
Step three:
Use a liquid eyeliner on your lower and upper lid. Give it a cat-like flick at the end.
Step four:
Pat grey eyeshadow all over the lid and up to about half way between the eyelid crease and the eyebrow. Blur the lines using a eye brush.
Step five:
Dab black eye shadow onto your lid and blend in well. It doesn't need to go up as high as the grey. Sweep a little across the lower lid as well.
Step six:
Use a blend brush to blend the colours together really well. Dab a little loose powder on your brush to make this easier.
Step seven:
Clean up any messy corners, the eyeshadow should only be between the liner flick and the corner close to your nose.
Step eight:
Finally, apply lots and lots of mascara to your upper lashes. A little coating on the lower ones will also create an even more dramatic look.