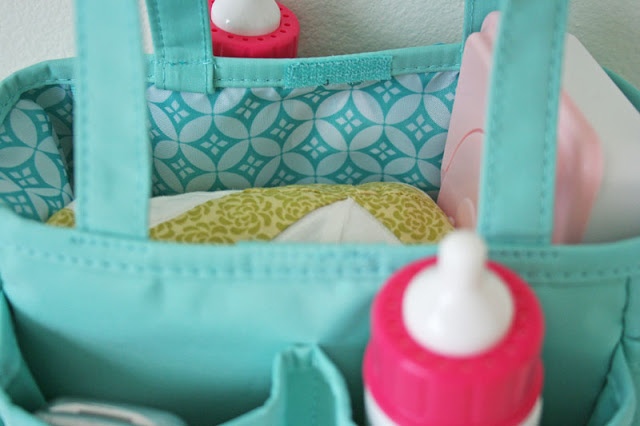 You may feel like you're packing everything but the kitchen sink when leaving the house with your little one
However, there is nothing worse than being close to home and realising you've left the spare nappies on the changing table.
It's a good idea to keep your nappy changing bag topped up and ready to go at all times.
Here is a handy checklist of the things a new mum needs when taking a stroll with her baby.
Nappies: Pack as many as you think you'll need and then add three more. Running short of clean nappies is a right pain, especially when you have a screaming baby on your hands.
Nappy sacks: These little scented plastic bags are great for putting dirty nappies in when you're out, but also useful for stowing anything mucky - clothes, shoes, toys - until you get home.
Baby food: Keep a bottle of emergency baby food and a couple of dry biscuits (sealed in a zip lock bag) in the changing bag. Don't forget to throw away any opened but uneaten jars of food.
Baby change mat: Most nappy changing bags should come with a change mat.
Baby wipes: You can buy 'travel packs', or even put a few from your home supply into a zip lock bag. They seem to stay moist for longer this way too.
Tissues: A small packet for everything you don't want to use a wipe on.
Nappy/ barrier cream: Buy a second tube and keep it in the bag. You know what your baby's bottom likes so don't leave home without it.
Plastic teaspoons: It's such a shame if you've got the food but not the utensil. Keep a couple of plastic teaspoons in the bag and throw them away as you use them.
Hat: Keep both a beanie and a sunhat to cover all weather options.
Spare change of clothes: Or two if there's toilet-training going on! There are so many ways that a small child can go through a set of clothes, it's definitely a good idea to take a spare.
Sunscreen: Keep a roll-on infant sunscreen in the bag during the sunnier months. The roll-ons won't leak and you can spread it across your little one's skin with your hand for complete coverage.
Small toy and book: Hand these out when you've exhausted all your own methods of keeping your baby entertained and you're still not home yet.
Mum's must-haves: All mums should pack a snack for when tiredness sets in and the blood-sugar levels suddenly drops, and a bottle of water, because lugging your baby and the changing bag around all day is very thirsty work.