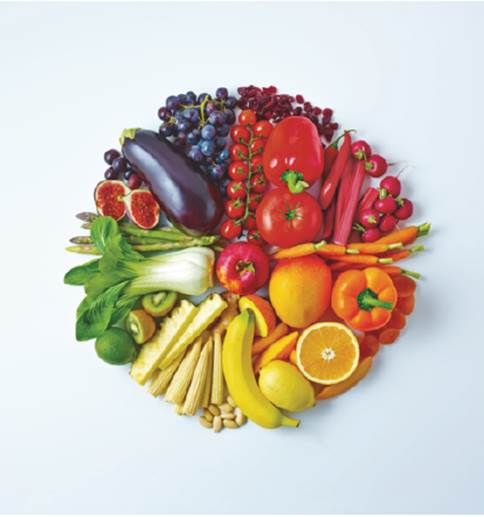 Are you finding it difficult to manage the recommended five portions of fruit and veg every day?
We know we are – and there are definitely nights where we climb into bed and realise we haven't so much as looked at a piece of fruit all day!
Well, we have a sneaky cheat for you; rather than eating any old fruit or veg to fill the necessary requirements, why not choose items that are bursting with vitamins or minerals whenever you do get a chance to eat healthily?
Marks & Spencer's have launched their Fruit & Veg Pledge, encouraging customers to ditch the old reliables and try something new and exciting.
Research shows that while apples and pears have great health benefits, a wealth of nutrients can be gained from including more colours in your diet. That means you'd be better off adding some variety rather than munch down on five apples just for the sake of it.
M&S nutritionist Helen Stevenson gives examples: 'Orange fruit and vegetables tend to be higher in carotenoids such as beta carotenes, while purple colours tend to be rich in antioxidant anthocyanins and red colours such as tomatoes often contain lycophene. Including a range of colours in your meals each day can help ensure you get a range of different vitamins and minerals in your diet."
Why not pick up some lychees or a packet of achacha (€3.59 for 4), which is a small orange fruit with a refreshing melon-like taste and soft, sorbet-like texture. It's a great source of nutrients, including calcium and vitamin C.
M&S also stock an enriched veg range, which provides you with a big boost of nutrients if you can include a portion in your daily dinner. Grab a pack of Vitamin D Mushrooms (€1.79, 200g) if you're making Spaghetti Bolognese. Just one serving of these miracle mushrooms provides 100% of your daily vitamin D requirement, helping to strengthen bones and teeth, as well as building the immune system.
Or what about Selenium-Enriched Shredded Brussels Sprouts (€1.49, 240g)? You don't need Christmas as an excuse to eat them anymore. This vegetable has been enriched with selenium and contains good amounts of vitamin A & C, folic acid and dietary fibre.
Make a few small changes and boost your nutrition intake with brightly coloured fruit or vitamin enriched vegetables from M&S.