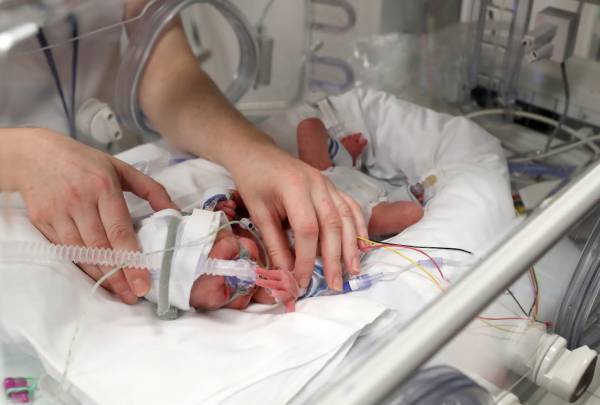 Jean Hastings sits protectively beside the glass cot that surrounds her baby, keeping him alive. Little Tom was born just 10 days ago, too early. His tiny body is covered in tubes and wires. They are there to help him get the best start in his life, but they also emphasise his heartbreaking fragility.
He is one of about 10 babies on the neonatal intensive care ward here at the National Maternity hospital in Dublin's Holles Street. It's a busy space with monitors beeping, nurses adjusting tubes and babies being wheeled in and out for x-rays. Each day the nurses here try to implement a 'hands off' time when the babies can just be left alone to grow and fight for their little lives without being disturbed.
Beside each glass cot in this room is a parent, watching over their child, their arms inside the incubator, their warm hands covering their little bodies, urging them to grow and thrive. You can see the worry on their faces...and the pride.
This is where the sickest babies come first. Advances in technologies and treatments since the 1960s mean that today, premature babies as young as 23 and 24 weeks with very complex conditions can now survive.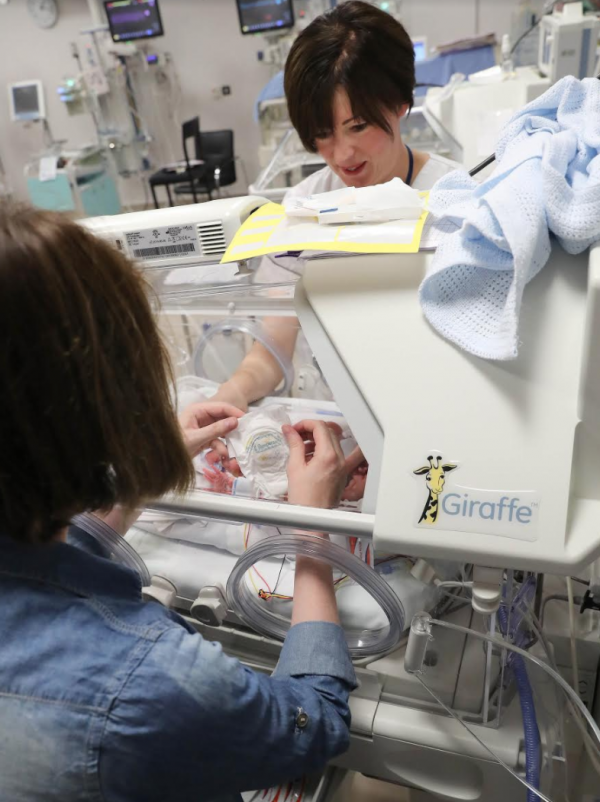 However, Consultant Neonatologist at the NMH, Claudine Vavasseur says it isn't just about survival at all costs:
"Our job is to make sure our babies survive but survive intact. We owe it to the families to weigh up the chances and make our decisions based on the best interests of the baby. We also can't emphasise enough the importance of breastfeeding in those early days. It not only gives these premature babies the antibodies and nutrients they so desperately need, it also helps prevent against a dangerous inflammation of the newborn's bowel called necrotising enterocolitis."
Our next stop is to the High Dependency Unit where babies come once they have stabilised and put on a little more weight.
Parents can have a little more contact with their baby and Kangaroo care (skin-on-skin) contact is encouraged for both mums and dads as much as possible.
A dad in the corner of the unit gingerly feeds his tiny daughter a bottle of expressed milk. It's hard not to get emotional seeing such a big man concentrating so intently on the achingly small bundle in his arms. He smiles over briefly as we continue our tour, but goes quickly back to gently winding his little girl. The focus is palpable.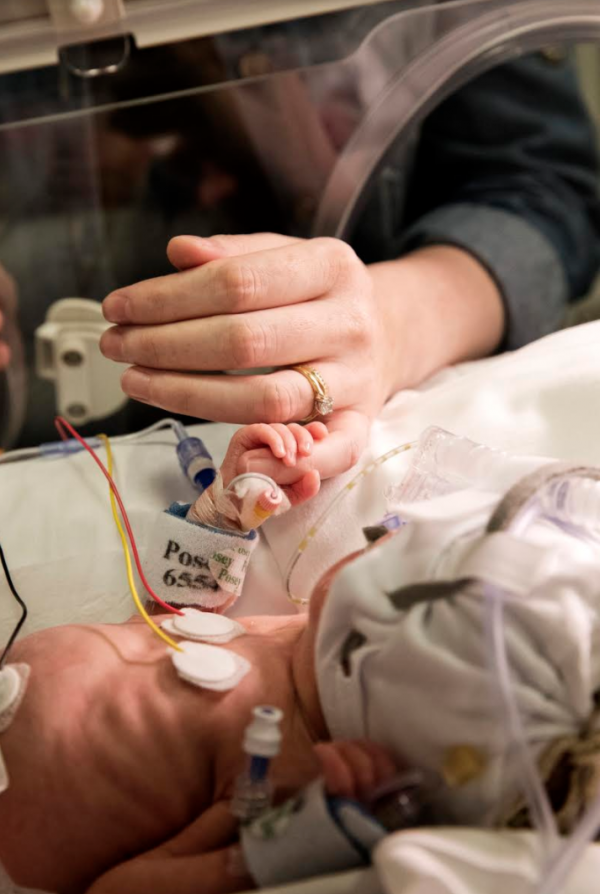 Our invitation here has been extended by Pampers, who have developed a specially designed preemie nappy to meet the needs of these little fighters. Up until now, nurses and parents working with babies born prematurely have had to cut and fold nappies to size which is not only uncomfortable but the little sticky tabs could irritate the almost translucent skin of these babies. They have donated these tiny nappies (which are THREE sizes smaller than regular nappies) to neonatal units across the country.
We pass the mobile incubator which brings tiny babies from hospitals around Ireland to specialist units such as the NMH or the Rotunda Hospital, to give them the best chances of survival. The nurses explain that the hospitals share this service week on, week off. All I can think about is the families that have to follow behind that ambulance containing their most precious cargo, in shock and unsure of the road that lies ahead.
Neonatal Consultant Anna Curley shows me the rooms where parents can come to get some alone time with their baby once they are responding well to treatment. It is also the room where other parents are brought to be told bad news. Ms Curley explains that with the move to St Vincent's Hospital, the facilities for parents will focus on the well-being of the parents, as well as the health of their new baby. Every family can expect a 'rooming in' room where they can be alone with their little one, navigate the intricacies of feeding and handling their babies, away from the busy ward.
She also explains how the National Maternity Foundation is helping to support parents through raising funds for things like extra parking spaces, more lactation consultants, and breast pumps. The foundation also carries out research into critical areas such as maternal diet and nutrition, infant brain injury, delivery room care and respiratory care of preterm infants.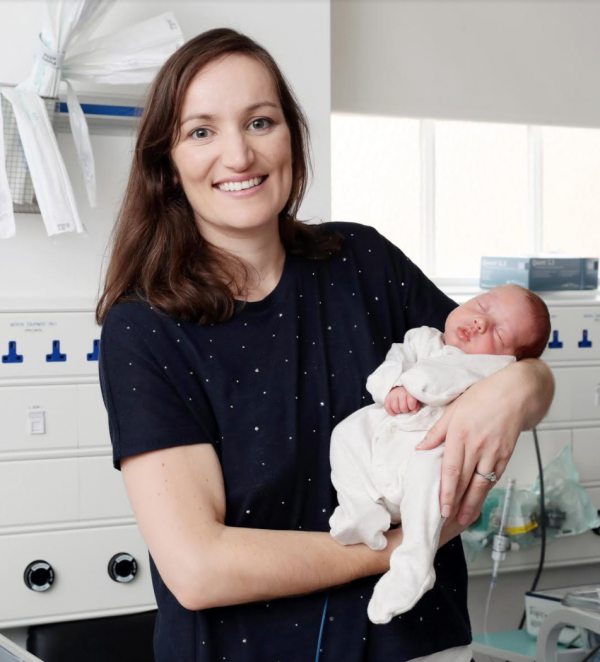 Next, we see the Special Care Unit where babies are preparing to go home.
This is where twin boys, Finn and Jack, have spent the last few weeks. The boys arrived into the world unexpectedly at just 30 weeks at 5.30am on a Sunday morning. Parents, Siobhan and Dan Logan, said nothing prepared them for what they were about to face.
"The hardest part is that the boys were taken from us immediately. For hours we waited as the medical staff got them as world-ready as they could manage. When we saw them again they were covered in breathing apparatus and tubes. They even had mini goggles to protect their eyes from the UV lamp in their incubator." Dan said it was hard not to get overwhelmed by the circumstances of the boys birth:
"It is a complete rollercoaster and we learned to just take it day by day. The worst time was when Finn needed a lumber puncture to see if he had meningitis. That was the longest 24 hours of my life, but luckily it was just a minor infection. It is hard not to just wish the time away. It is all part of their birth story. I found the limited contact difficult. You are just looking at your baby through glass, in what is quite a stressful environment and that can take its toll. The nurses and doctors were amazing - they were an unbelievable support to us both."
The Dublin couple were delighted to have brought Jack home last week, and just after our interview, they got the news they have been waiting weeks for. Finn was being discharged from hospital that day. He was being reunited with his brother, and the Logans would finally be able to introduce him to their extended family.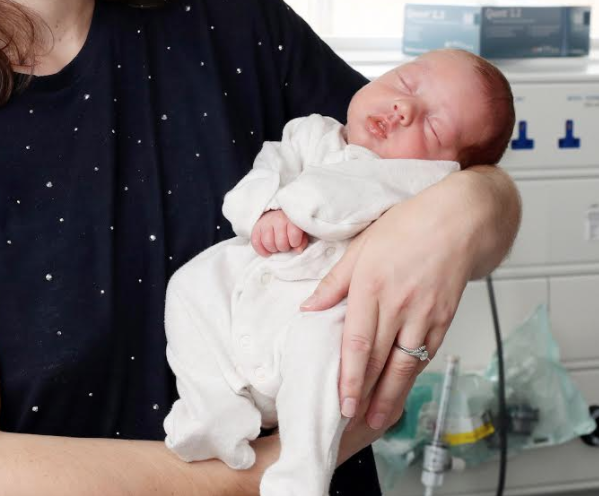 They have been told that their boys shouldn't have any major complications, but they may hit milestones a little later than some others, and could be small for their age in their first year or two. Siobhan admits that her son's precarious arrival into the world has meant this homecoming is extra special.
"Despite all the highs and lows, it's hard to forget the journey we have been through as a family. And to get to home altogether, well, it's hard to feel anything but so incredibly, incredibly lucky."
Families with premature babies in Ireland who need advice and support can contact Irish Premature Babies