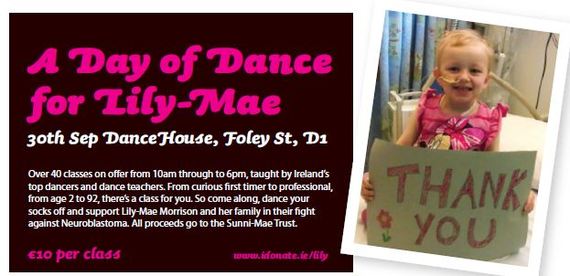 Dance your socks off with some of Ireland's top teachers and dancers - and help raise money for Lily-Mae Morrison and her fight against Neuroblastoma.
Lily-Mae Morrison has recently been diagnosed with a rare form of cancer called Neuroblastoma which effects 1 in 100,000 children in Ireland. Lily-Mae is the daughter of dancers Judith Sibley and Leighton Morrison who are best known in Ireland for their work with Chrysalis Dance and Youth Ballet West. She's 4 years old and likes dinosaurs and dancing. She's very sick at the moment but hopes with your help to be dancing again soon.
A Day of Dance for Lily-Mae will be held on Sunday 30th September at DanceHouse, Foley Street, Dublin 1. Over 40 dance classes will be on offer from 10am - 6pm, taught by Ireland's top dancers and dance teachers. From curious first timer to professional, from age 2 to 92, there's a class for you -- there's everything from Acroyoga to Zumba! So come along, dance your socks off and support Lily-Mae Morrison and her family in their fight against Neuroblastoma. All proceeds go to the Sunni-Mae Trust.
Classes cost €10, with a €50 unlimited pass available and special family rates.
Classes include: ballet - from beginners to professional master classes, pole dancing, tango, hula hooping, yoga, contemporary - for children and adults, sean nós, flamenco, boxing, parkours, jazz, cardio-fat burning, zumba and more!
The Sunni Mae Trust was launched to raise money to help Lily-Mae and her family with their fight, to help other families affected by Neuroblastoma and to fund research into a cure. For more information go to
www.idonate.ie/lily