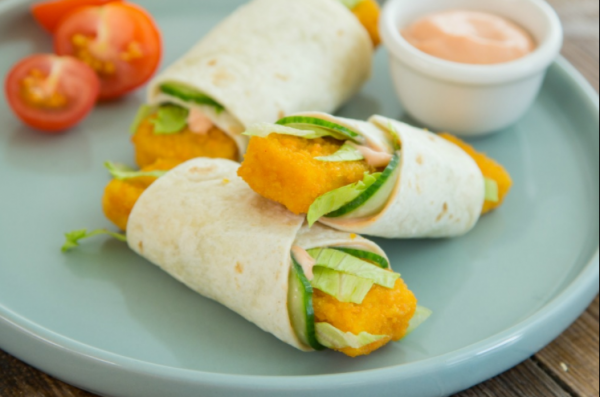 It's almost the end of the summer, and if your house is anything like mine, you might find the reins are off a little in terms of what the kids are eating. We're having picnics and day-trips, ice-creams and barbecues, and doing all the things that summer's made for, while not paying quite as much attention to that elusive five a day. It's lovely to loosen the rules and watch their faces light up when they see what's in the picnic basket, but it's not something we can keep up forever.
With back-to-school on the horizon, it's the perfect time to return to some semblance of healthy eating - but how to do it without being greeted by shocked faces and wrinkled noses?
In our house, the trick is to give them a little of what they love with some of the stuff that's less popular – like slipping iceberg lettuce in with a hamburger, or peas into a creamy pasta or diced cucumber into one of these Fish Finger Mini Wraps made with delicious Birds Eye Omega 3 Fish Fingers. They're simple to make, they look great, and it's the kind of tea that gets an "ooh" from my kids every time we make it; not a wrinkled nose in sight.
Fish Finger Mini Wraps
What you need:
3 Birds Eye Omega 3 Fish Fingers
1 mini wrap, cut into three strips of equal width
50g shredded iceberg lettuce
¼ cucumber, sliced very finely
What do do:
Cook the Omega 3 Fish Fingers according to the instructions on the pack.
Meanwhile, combine ketchup and mayonnaise
Place one wrap strip on a plate and spread the pink sauce.
Place the shredded lettuce in the middle of the wrap and top with the cooked fish finger.
Add the cucumber and roll the wrap and enjoy!
Brought to you by

Looking for some simple and tasty meal inspiration? Captain Birds Eye has lots of great ideas that are perfect for lunch boxes and family dinners. Check out these great
recipes
.