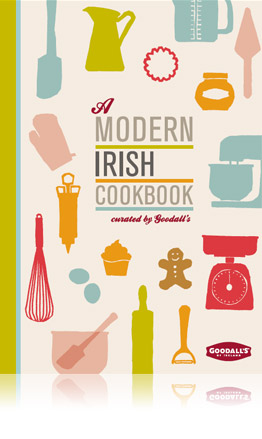 Do you remember the traditional Irish meals that your mother or grandmother made when you were little? While these dinners and desserts were delicious, and bring back lots of memories, they might not appeal to your own family today. Goodall's want to bring traditional Irish recipes back to the kitchen, but with a modern twist so your family can still enjoy their meals.
'A Modern Irish Cookbook' from Goodall's contains 50 great recipes all inspired by traditional Irish cooking and ingredients. These recipes have been updated to reflect the way we cook and eat today. There is a huge variety from little bites like Spiced Beef Blinis to hearty dinners like Tagliatelle & Smoked Trout. There is also a lovely selection of desserts and other sweet things like Baked Vanilla Cheesecake with Blackcurrant Sauce.
The recipes have been chosen by the trusted team at Goodall's from a selection submitted by Ireland's Food Blogging Community. You can find out more about these foodies in the book.
The profits from 'A Modern Irish Cookbook' will be split between two deserving charities – Cork Penny Dinners and Dublin Food Bank. You can download the e-book by visiting the Goodall's site
here
. You can also purchase a hard copy of the book for €12 + post and packing by emailing
info@goodalls.ie
with your name, address, preferred method of payment and number of books required.