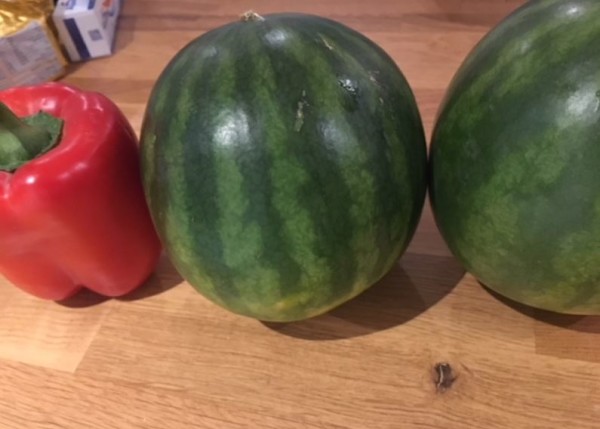 I couldn't resist these watermelons when I saw them in Dunnes the other day.
Maybe I was so excited to see fresh food after the empty shelves of Storm Emma that I wanted to buy everything that didn't come with a list of ingredients, or maybe they were just too cute!
Anyway, two of them found their way into my trolley and my kitchen.
Normally, I cut a watermelon and before I can do anything with it, the kids have devoured it.
With the kids on snowman building duties, I had a couple of minutes to throw together these frozen yoghurt watermelon slices.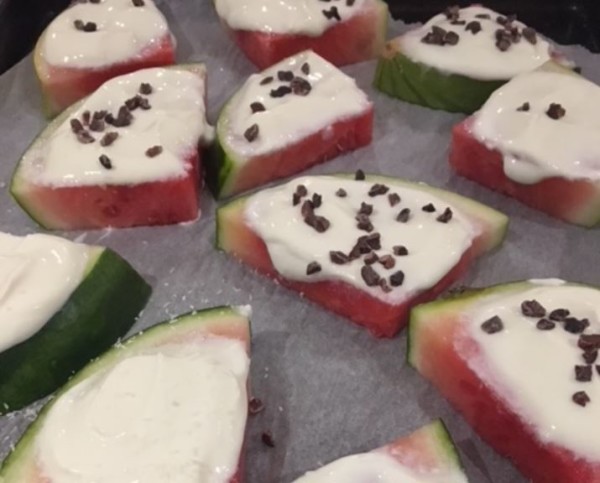 Easy peasy and a great way to get the kids eating natural yoghurt and fruit.
They got the thumbs up from the kids so that's a win in my book!
Ingredients:
1 watermelon (whatever size you can get!)
1/2 tub natural yoghurt (this is how much I used for my small watermelon - double it for a normal sized watermelon)
1 tsp good quality vanilla essence (double for larger fruit)
2 tsp good quality maple syrup (again double depending on size of watermelon)
Method:
Slice your watermelon (I cut mine in triangles) and set aside.
In a separate bowl mix yoghurt, vanilla and maple syrup.
Spread the yoghurt mixture on one side of the watermelon. I threw some coconut and cacao nibs on the top.
Then into the freezer for a couple of hours (I did struggle with fitting them in among my stash of storm supplies!).
Couldn't be easier!
Serve after dinner, for breakfast, after school, whenever you wish..... enjoy!