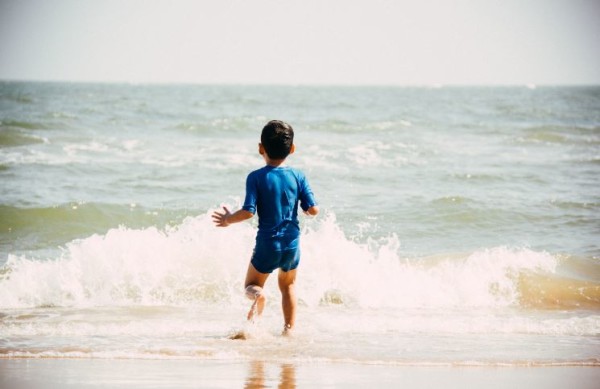 The summer months mean family holidays, so parents need to be extra vigilant with children around water, whether it's a paddling pool in the garden, a trip to the beach or splashing in the swimming pool on a holiday abroad. According to a report produced by the World Health Organisation in 2014, drowning is the third leading cause of unintentional injury death worldwide, accounting for 7% of all injury related deaths. Boys are two times more likely to drown than girls and the most vulnerable are children aged one to four years. With these statistics in mind, it is important that parents educate themselves and their children about the dangers of drowning and how to be safe in the water. If someone is drowning, there is very little splashing. There may be no waving, yelling, or calls for help, which is why vigilance and education is key.
Parents need to be as attentive at the poolside, as they would if their child were swimming in the sea. "Drowning can happen silently in seconds and in as little as two centimetres of water,"says Dagny Moor, swimming instructor with Waterbabies Swim School, Cork. "Accidental drowning results in more than 150 deaths in Ireland each year. Learning to get to the side, hold on, get out or swim could save your child's life one day, so we at Waterbabies teach vital safety techniques from birth."
Dagny recommends that a child learns to swim as early as possible. "It's never too early to learn to swim. Swimming is great for a baby's and small child's physical and mental health. It is an activity the child can bring into adulthood, to enhance their well-being. But, above all, it is the first necessary step to ensure safety in the water."
Summer holidays mean days out to the seaside. Whilst we all want to have fun, where there is water, there is a potential for danger and risk of injury. Irish Water Safety work to educate people to prevent drowning and water related accidents. Siobhan Bradley is chairperson of Cork Water Safety. When visiting the beach, Siobhan's advice is, "study the signs on the beach. Check the flags. Never swim where a sign says not to, or when the red flag is flying. If it is safe to swim, only swim between the red and yellow flags. The black and white checkered flag means it is safe to surf. Talk to the lifeguard, to know the safe places to swim. Certain beaches have rip tides and some don't."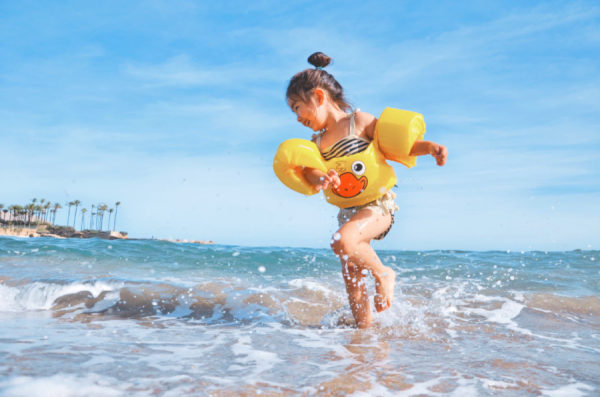 Cork Water Safety's website explains what rip currents are and is a great educational resource that parents can use to educate themselves about water safety. As waves travel from deep to shallow water, they will break near the shoreline. Where waves break strongly in some locations and weakly in others, rip currents are formed. These currents are narrow, fast-moving belts of water that travel offshore. To identify these types of current, look out for a channel of churning or choppy water, an area of water that is a different colour, a line of foam, seaweed or debris moving steadily seaward or a break in the incoming wave pattern. If caught in a rip current, do not fight the current. If you cannot escape to swim to shore, float or thread water. If you need help, call for assistance. Siobhan explains the international signal for calling assistance, "if you think you are getting into trouble, make a fist with one hand and put your fist straight into the air. This signals you are in trouble to the lifeguards on the beach, anywhere in the world".
Young children should not be allowed swim alone and older children should be supervised at all times. Siobhan stresses the importance of calling for assistance if you see a child or adult struggling in the water and that, where possible, simple rescues are encouraged so that the rescuer does not get into danger." Jumping into the water is a last resort and you should only jump in if simple rescue methods fail, or if a baby or toddler is in distress. If you see someone in trouble, the first thing to do is get help. Calmness can help anyone panicking in the water, simply talking them towards you. Simple rescues are the best – reaching towards the person while you lay flat on the edge near the water, throwing a ring buoy, throwing a rope or a piece of clothing, using a branch to pull someone in, throwing a floatable bag to the person so they can hold on to it while you wait for assistance. If the incident is more serious, but you have called for help, the lifeguard should have arrived by that time".
One of the Irish Water Safety campaigns is "A stolen ring buoy, a stolen life".
Siobhan advises, "when you get to the beach, look to see where the ring buoy is. If you find the ring buoy is damaged or missing, email Irish Water Safety or Cork Water Safety and we will contact the council to replace it. You can also visit www.ringbuoys.ie to report missing or found ring buoys".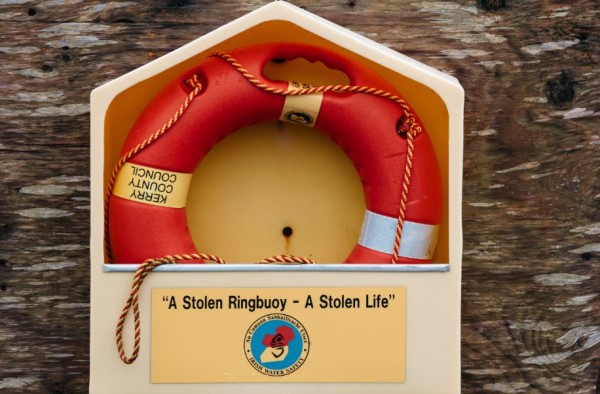 Irish Water Safety has created an educational resource for primary schools called PAWS (Primary Aquatics Water Safety). PAWS outline lifesaving guidelines for children of all ages. Visit www.iws.ie/education for information about teaching aquatics in your local school or to arrange a visit from a trained lifeguard or water safety instructor. Four pdf lesson books, PAWS 1 to 4, are available to download which parents can use to explain the importance of water safety to their children. PAWS 1 is a learning aid for children in Junior and Senior Infants, leading to PAWS 4 which is designed to teach children in fifth and sixth classes about water safety.
Tips from Cork Water Safety and Waterbabies swim school on being water smart and safe:
1. Never let a child swim alone.
2. Do not allow children to engage in boisterous behaviour that might result in injury or drowning.
3. Do not allow children to dive into water unless someone has already tested how deep it is and checked for any underwater hazards.
4. Do not swim at beaches where there are large waves, a powerful undertow or no lifeguard. Always check signs and flags and swim in areas patrolled by lifeguards.
5. Stay sober near water. Alcohol can impair your supervision and swimming skills.
6. Floatation devices on holidays are not a replacement for you, the parent. Close supervision is necessary. Ensure that floatation devices are the correct size for your child and that it is fitted correctly. It is preferable to use a float jacket, woggle or fin, rather than arm bands, as armbands can easily pop off or be pulled off. Practise using devices before use in a pool or at the beach.
7. After a meal, wait at least an hour before swimming in a pool or in the sea. When you do swim in the sea, swim within your depth and swim parallel to the shore.
8. Learn Basic Life Support (BLS) so that you know what to do in the event of an emergency. Call 999 or 112. Confirm the service you require. Answer the questions. Do not hang up. Do not panic.