A new 'make-up mist' has hit the market recently and MummyPages have given it a try. Aero Minerale is a new 'aerobrush' foundation. We really like this product and think this brand will especially appeal to your teenage daughter as it's cool, affordable and was used on all the 'vampires' in the Twilight series (they used 1000 cans). It can even be seen on Bella's dressing table in Twilight Breaking Dawn part 1.
This range was created by make-up artist Yolanda Halston and celebrity fans include Angelina Jolie, Britney Spears, Jessica Alba, Jessica Biel and Kirsten Stewart.
What's great about Aero Minerale is that it is light on the skin like mineral make-up but gives great coverage like traditional foundation. This is the perfect product for your teenage daughter as she'll be able to cover any break outs without being caked in make-up. It also lasts all day long so it's great for busy mums who don't have time to top-up their make-up during the day.
Applying is simple, just follow these easy steps for the best results:
Shake, shake, and shake! Because Aero Minerale makeup is oil free to keep your skin feeling as well as looking its best, the mineral pigments sink to the bottom and need to be mixed up with a shake.
Zig-Zag Spray: Hold the can 6-8'' away from your face, close your eyes and evenly mist Aero Minerale down the centre in a small zig-zag for an even, natural looking coverage.
Less is More: Two seconds is all it takes to get the perfect 'no makeup' look. For a more customised coverage, you can apply Aero Minerale to a sponge, brush or your hand.
Experiment: Aero Minerale can be used to conceal, highlight, or to create a natural, yet gorgeous look for a big night out. Also suitable for arms, legs, and décolletage providing flawless, even coverage so you can have the confidence to flaunt your pins, once summer comes around!
This is a great new product, but it takes some time to get used to, so maybe have a practice go before you wear it out and about. If it's your first time using the product, maybe try spraying on your palm and applying with a sponge or brush.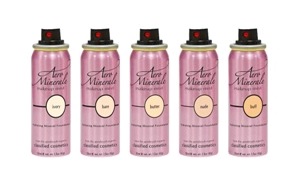 Aero Minerale have a wide range of shades from light to dark, and also have a bronzer and shimmery blusher. We also tried their primer which you apply before your make-up. This allows the make-up to sit better on the skin and also means it will last even longer. It primes the skin, lips, lids and lashes too.
All Aero Minerale products have an RRP of just €14.99, so it really is a great product for teens (and mums) who don't have a huge budget but still want great quality make-up.
April 2013