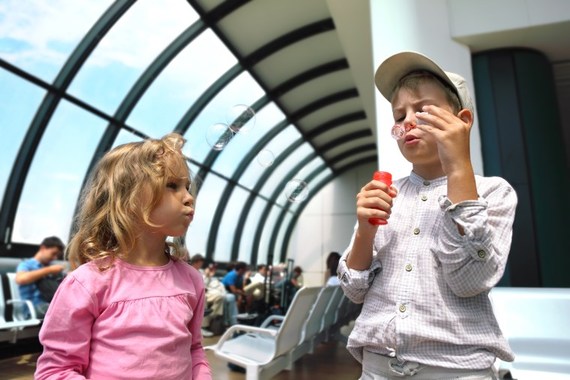 Airports can be the most stressful places to have to endure, especially if you're travelling with the kids.
That said, some airports are designed to make your family trip less of a headache and more of a holiday from the very start
If you're planning a holiday to the States, here is a list of the some of the most family-friendly airports to consider.
Detroit (DTW)
Top marks go to Detroit Metro Airport's McNamara Terminal for its multiple play areas, Henry Ford and Motown stores, and food concessions that include a gourmet peanut butter and jelly sandwich shop. This airport also has free Wi-Fi and the North Terminal has a soft-sculpted playground featuring an aircraft and a slide through padded clouds.
Minneapolis (MSP)
Toddlers and preschoolers can play at two different play areas in Minneapolis. St. Paul Airport, both in Terminal 1–Lindburgh and Terminal 2–Humphrey, feature mock airplanes and control towers with slides, alongside adult seating with outlets for charging devices. Snoopy fans (cartoonist Charles Schultz was from Minneapolis) can snap photos with a statue in Terminal 1, and for older kids, there's free Wi-Fi and a trio of video arcades.
Charlotte (CLT)
At Charlotte Douglas International Airport, parents with fussy babies appreciate the tree-lined atrium's rocking chairs while web-surfing teens can enjoy the free Wi-Fi. Aviation buffs of all ages can check out 'Just Plane Art', an exhibition that includes a scaled down replica of the original Wright Brothers aircraft.
Denver (DIA)
For art-loving families, the 30 vibrant sculptures and installations at Denver International Airport can be a fun time-killer. DIA also has free Wi-Fi, a passenger bridge where kids can watch jets pass beneath them, and four scavenger hunts that take 30 minutes to an hour to complete. Kid shoppers can check out Kazoo & Company for toys and Sports Terminal for team merchandise.
Seattle (SEA)
Preteens and teens can sample its new "Experience the City of Music" playlists via speakers, video screens, free Wi-Fi, and even a free smartphone app showcasing some of the region's top performers. Younger tots can burn off excess energy at the 1,400-square-foot padded and vibrantly painted Children's Play Area located between the A and B concourses.
San Francisco (SFO)
If you're held up at San Francisco International, you can get your kids into touring mode before your holiday begins. The airport has three large aquariums filled with sea creatures, as well as children's artwork displays and an aviation museum. There is a Family Lane at security screening, while Terminals 2 and 3 have play areas with tunnels to crawl through and an interactive plasma wall.
Orlando (MCO)
As the access point for Disney World, Orlando International Airport does a good job of continuing the fun even after the family theme park holiday is over. Free Wi-Fi, a huge video arcade, an automated tram to all gates, lots of restaurants, and shops selling merchandise from Disney, Universal, SeaWorld, and even the Kennedy Space Centre minimise downtime for kids.
Miami (MIA)
There's no free Wi-Fi and not one kids' zone, and yet Miami International Airport is on the list by sheer virtue of its easy access - from baggage claim to the beach in 30 minutes. It also has more than 200 shops and restaurants to choose from.
Image via Pinterest.