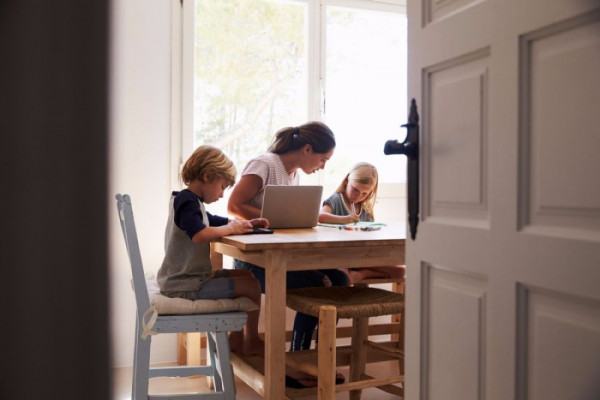 "Being a Stepmum means they grew inside of my heart instead of my tummy"
I thought I would start my blog off with a very personal, yet hugely relevant piece to my Mummy journey. I'm a very proud Stepmom to two beautiful kids, so here in my first post, I am going to share a little about that journey so far, with you.
No girl dreams of becoming a Stepmom and no child dreams of having a Stepmom. But sometimes life just happens and you find yourself somewhere that you never imagined you would be. That is what happened for me.
I met a man that was everything I dreamed of, he was fun, caring, ambitious, loving, loyal, incredibly handsome. He also happened to have two kids.
In the beginning, I remember chatting about that to my friend and they said listen, you're not about to marry the guy, have fun, enjoy getting to know each other and a couple of months down the line if things get serious, then you can start thinking about all that. So off I went. We went on about four dates in one week and there was no doubt about it, I was falling for him, hard and fast!
The fact that he had two little ones wasn't really at the forefront of my mind for the first few months, as we were just having so much fun together, nights away, nights in (in my house) but we knew it, we were, in fact, falling in love. I had never met anyone like him, he was so strong and wise and incredibly funny. We wanted the same things in life, he wanted more kids too, which was very important for me. I had finally understood what people meant when they said, "When you know, you know."
In past relationships, I used to think, do I know? I think so… but there was no doubt here, I wanted to be with this amazing man for the rest of my life. I had no doubts. Of course, I thought, am I going to be able to be a Stepmom to two kids? They were aged 8 and 9 when we met. Again, I followed my heart and I knew that they were part of my husband and I was sure once I would meet them, I would realise that they were wonderful kids and we could all be happy together.
My husband minds his children fulltime and has for many years, so I wasn't entering a weekend here and a weekend there set up, this was going to be a full-time role and I definitely did not want to be more confusion in their lives. If I was in, I had to be 100% in!
So, I met them, they were amazing, like I had guessed - and we got on great. I consider myself a bit of an actress, so I used to call down in the evenings and we would play pretend games of X Factor and Britain's Got Talent and we would all be in knots laughing. I liked the feeling, the four of us, relaxing, having fun, enjoying each other's company and being silly together. I'd drive back to my own house at night and think yes, we got this.
We had told the kids to begin with, that we were just friends and eventually we told them that if they were ok with it, we were going to become boyfriend and girlfriend. They were, thank God and our bond began to grow. I would take them horse riding, I began to sleep over, we would go on family days out, it was fantastic. We got engaged, the kids were thrilled. The three of them went over to my parents' house to ask permission for my hand in marriage. We made sure they were involved all the time. Our wedding came and went and it was magical, both kids made a speech about how lucky they were that I had come into their lives, which was incredible beyond words. I loved our little family and we were so special.
Soon after our wedding, their Mum and their incredible childminder both passed away within a couple of months of each other. As you can imagine this was incredibly difficult for the kids. Their world had turned upside down. There was so much change happening that I can only imagine how confused they must have been.
We bought a lovely new house for all of us and things were going well. We decided to try for a baby and like a miracle, 9 months later our little baby boy Bobby arrived into our lives. He was the best thing to happen to all of us ever and we all loved him so much. Bobby coming into our world, however, is where our relationship became a little complicated for me.
I didn't have an easy delivery with Bobby, but when we finally were able to bring Bobby home from the hospital all I wanted was to mind him, get him into a good routine, making sure he had enough sleep etc… However, this proved difficult with two other kids in the house, coming and going to training and matches and friends calling at the door, as they should be able to at their age. I could feel myself getting upset with them for making noise when Bobby was sleeping. Looking back, I suffered from some sort of first time Mum anxiety, for sure.
Also, I found it difficult to share him.
I know that sounds so silly, but that's the way I felt. Now our little baba is one and I still find it hard to share him, however, I find the biggest challenge of being a Stepmom sharing my husband. The challenge is not the children because my God they are the most amazing, good fun, well behaved, amazing children in the world and I truly love them both so much. Bobby is lucky to have such a wonderful big Brother and big Sister. The big challenge for me is sharing everything!
My husband usually works until 6pm, he then comes home and both kids usually need lifts to training and matches and he will stay and watch the big games, as he should, but where does that leave me and Bobby? We haven't seen him all day and lots of evenings, it's bedtime for Bobby, or close to it by the time he comes home.
I remember the five of us were in Spain during the summer and the older kids went to an activity camp for the morning, so we went out on a boat with Bobby and I cried. I cried because I was happy. I was happy that for once it was just the three of us doing something together that was a first for Bobby, his first boat trip. My husband was present and in the moment, he wasn't talking about rugby or basketball with the kids. He was with us and we were both focusing on Bobby.
That is one of the big challenges for me as a Stepmum, sharing.
The other is loneliness.
We could all be relaxing in the evenings and I would feel incredibly alone. They are all watching a match or telling Dad all about their day and I am present, they are telling me too but I don't feel a part of the unit, sometimes I almost feel like I am just watching the evening happen from the sideline. My husband is loved by every one of us in the family, the kids adore him, as they should because he is an amazing father and always has been, but I don't feel that they really love me in the same way and that's ok, but it does make you feel alone.
I know every step parent's situation is different, these are just my feelings and my experience. I am learning and as time goes on, it does get easier. I hope I don't sound extremely selfish, I am just trying to be honest so if other Step Parents are reading this they may not feel as alone, if they too are feeling this way. I think it was the book "Step Monster" that said, "The Stepmum faces formidable challenges, not least because to admit her difficulties is often taboo". We are the adult after all.
Recently, my attitude has changed and I have honestly realised that I am incredibly lucky to have this chance to be such a significant role in my step children's lives. I can be that Mother figure to them that they both so badly need and deserve and that is a gift, so great. I didn't come to this realisation overnight, it is still a struggle I face every single day.
I am not a self-help book kind of gal, in fact, this is the first one I have ever read, but I must say it has helped me tremendously. It is called "UnF*ck Yourself" by Gary John Bishop and basically, it has reminded me and continues to remind me, each time I pick it up that our family of five is indeed the greatest blessing. I have the chance to be such a positive role model in our kids' lives. I am blessed that they have welcomed me into their lives and their hearts and I need to enjoy every moment of being their Stepmom because before I know it, they will be big people living their own lives and this is my opportunity to do good, to do great things for them, for me and for the five of us as a family.
Yes, it is hard and I will never deny that - but it is also fun, it is exciting and it can be incredibly rewarding.