Award winning children's food expert Annabel Karmel recently teamed up with CiTV to release a 30 part children's cooking series 'Annabel's Kitchen'. The series has been accompanied by 'Annabels' Kitchen – My First Cookbook' which features step-by-step colour photos that guides your child in a fun and simply way through her many delicious recipes.
There is a huge variety of dishes featured in the book, including Meatball Pasta Bake, Cornish Pastries and Beetroot Chocolate Cake. For each recipe the ingredients are listed out and accompanies with a picture of everything you need – a great way to make things simple for the kids (and even for parents!). The cooking steps are also accompanied by beautiful step-by-step photos making the process nice and easy for children to follow.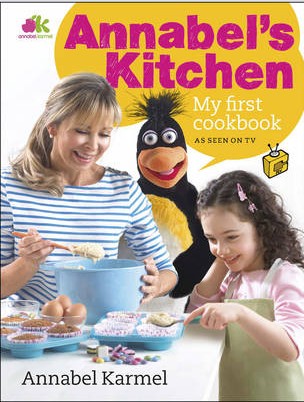 The recipes are given fun names that kids will love and are divided into lovely little categories including Animal Tea Party, Polar Bear's Picnic and Midnight Feast. Annabel's penguin helper Jimmy pops up across the book giving helpful tips like how to store food properly and when to flip a pancake.
The book stresses healthy eating throughout and also encourages children to try new foods and ingredients. It includes recipes from across the world, teaching your child about different cuisines at an early age. The book is suitable for children from the age of 4 and is the perfect way to introduce your child to cooking and baking.
Parents can also make use of this book for kids' parties and other occasions with gorgeous recipes for a Train Cake and
Chocolate Teddy Bear Tarts
that will impress all the kiddies and parents alike.
'Annabel's Kitchen - My First Cookbook' is published by Ebury press and available to buy now at a RRP of £12.99.