One core mission lies at the heart of multi-award-winning Irish brand, Ayu Cosmetics: to give women the tools and the knowledge to enhance their unique, natural beauty – not mask it.
That ethos lies behind the formulation of their premium, skincare-led range of tanning and make-up products, designed especially to make achieving a natural, flawless look effortless – and it works. This Irish-owned, Irish-based brand have racked up an incredible 30 awards, and garnered a dedicated, global fanbase of women who want the tools to look and feel great at any age.
"Ayu" – the Indonesian word for "very feminine/beautiful", was founded in 2015 by Internationally renowned makeup artist Suzie O'Neill. What started as a collection of affordable, high-end brushes has now expanded into a revered range of cosmetics inspired by Suzie's extensive professional experience and the highest of quality ingredients.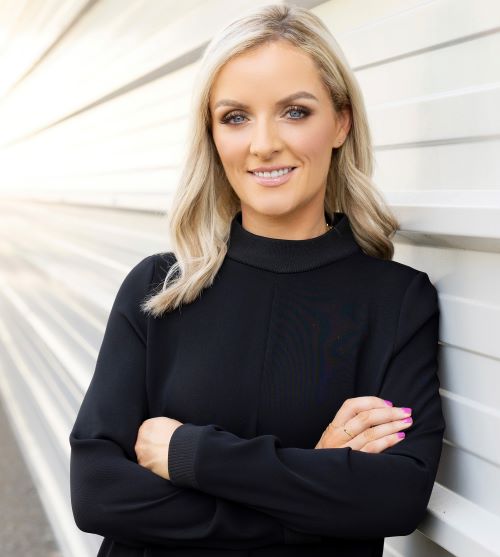 Ayu's incredible bestselling collection contains everything a woman would need to bring out her natural glow - from make-up bag essentials such as their multiple award-winning lightweight concealer and hyaluronic acid infused foundations, to illuminating highlighters, eye-enhancing shadows, high pigment lipsticks, much-loved make-up brushes and natural instant tan. Their entire range is dermatologically tested, certified as cruelty free and kind to all skin types.
Instant Undereye Concealer - €18.00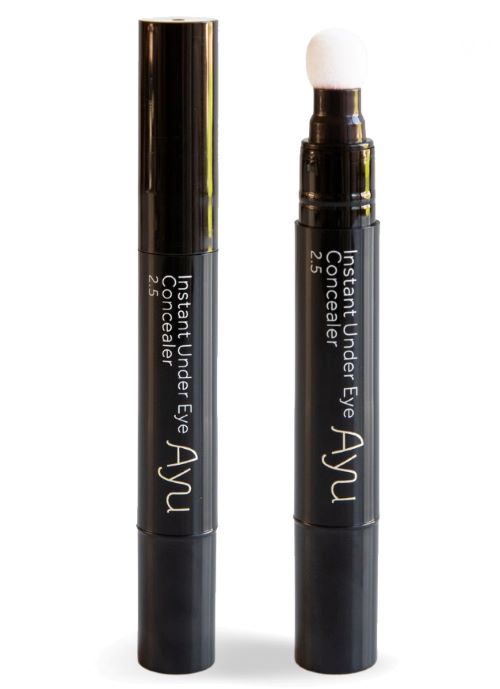 Developed by Ayu Creator Suzie O'Neill at her kitchen table, this concealer was born out of years of frustration with high coverage products that were too heavy for the delicate under eye area. This self-setting, light reflecting formula enriched with skin-hydrating hyaluronic acid will reduce the appearance of fine lines and wrinkles, without creasing or settling. The result is a highly pigmented, yet incredibly lightweight finish that will illuminate and colour correct the under-eye area for an instantly fresher, brighter, and more youthful look.
Fresh Skin (€32.50) and Perfect Skin (€35.00) Foundation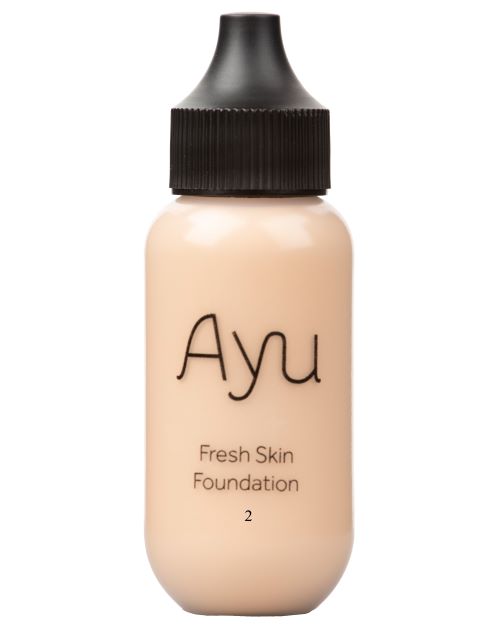 These breathable foundations have a stunningly featherweight, natural feel and deliver a fresh, faultless finish.
Fresh Skin Foundation's ultra-creamy, hyaluronic acid enriched formula melts effortlessly onto the skin, providing a long-wearing light to medium coverage, and a smooth, dewy, luminous radiance.
Ayu's Perfect Skin Foundation contains complexion-perfecting pigments that blur and minimise the look of pores, for an impeccable medium to full matte finish.
AyuGlo Self-Tanning Mousse - €23.50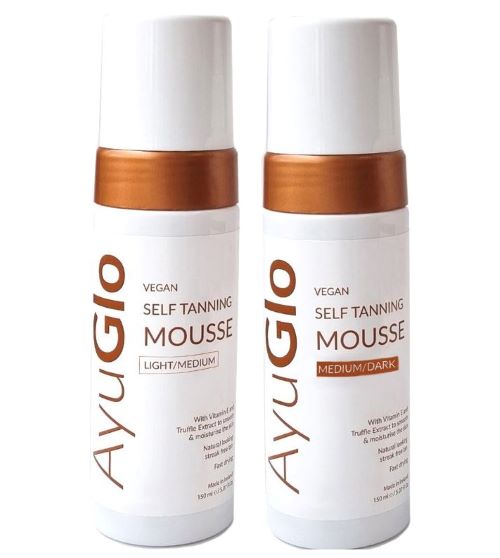 Achieve that coveted, naturally sunkissed glow with AyuGlo's lightweight, fast-drying, easy to apply formula enriched with nourishing oils, Vitamin E and Truffle Extract for a smooth, hydrated and perfectly bronzed finish.
​With a natural guide colour, this luxurious mousse has excellent antioxidant properties that work to hydrate and nourish the skin, ensuring easy application and an even fade for all skin types.
Total Lash Mascara - €22.00

This nourishing and hydrating mascara containing hyaluronic acid delivers a beautifully glossy, eye-opening finish. Equipped with two brushes: the hourglass-shaped Volume Wand is designed to grip, coat and naturally curl every lash from root to tip in its rich, highly pigmented formula. The definer brush is perfect for a more daytime, natural look, and to ensure a smudge-free application to the lower lashes.
Brushes - Ranging from €12.00 to €95.00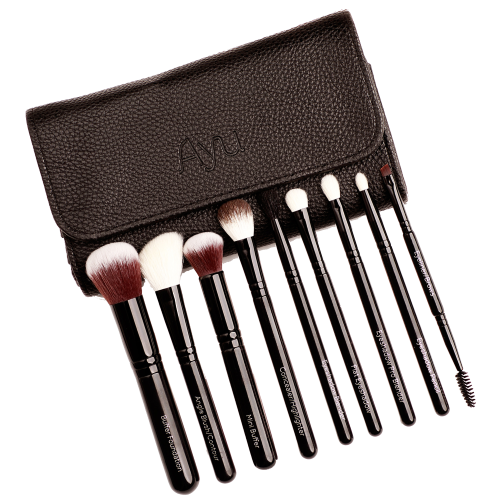 Ayu's award-winning, incredibly versatile butter-soft brush collection is adored by Ireland's Top Make Up Artists and Beauty Influencers alike.
Their bestselling 'Complexion Perfection' hand-crafted, multi-use buffer brush guarantees a high-definition finish, making you feel as good as you look. Use it to apply or blend any of Ayu's powder, cream or liquid products onto your skin for full coverage without any absorption of product.
Liquid Eye Liner - €18.00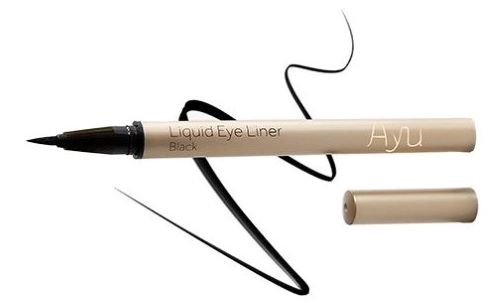 Create the perfect winged line with this waterproof, smudge proof, intensely jet black felt tip eyeliner. The long-wear, ultra-matte formula and super precise applicator tip make it easy-to-use, so you can create a perfectly defined eyeline that will last all day in no time.
Peach, Natural Glow Blush and Bronzer - €27.00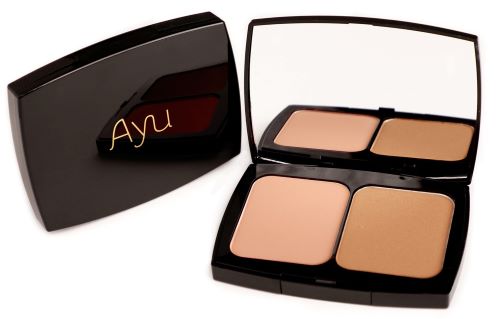 This gorgeously silky, semi-matte powder blush glides on smoothly, perfectly emulating the warm hue of healthy, flushed cheeks. Peach is a universally flattering, can't-go-wrong shade of blush that will suit everyone, whether you have a fair, medium or dark complexion.
Their ultra-lightweight powder bronzer with a soft, matte finish will be your secret to achieving a natural year-round sun-kissed look. Gently sweep over the apples of the cheeks, nose, and chin - wherever the sun would naturally hit the face.
Easy Brow Pencil - €16.50

The multi award-winning, hypoallergenic, super slim Ayu Easy Brow Pencil creates a perfect, natural looking brow with every hair-like stroke. As our brows are naturally lighter than our hair colour, all three shades – blonde, brown, and dark brown - have been developed with cool undertones to deliver the most natural finish possible.
Glamour Eyeshadow Palette - €27.50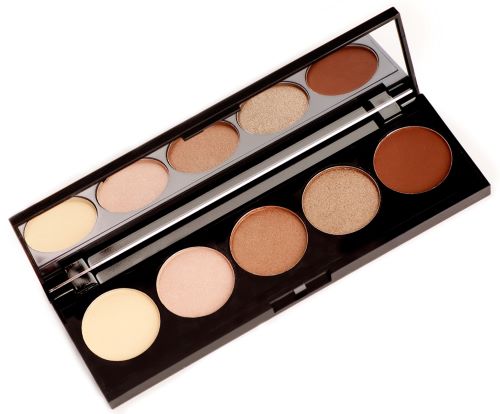 Containing easy-to-blend, deep velvety browns to define, a rich shimmering olive to contour, and a beautiful milky cream and iridescent pink pearl sheen to highlight – this is your one-stop palette for a soft, smoky, timeless look that will make the eyes pop and sparkle.
Ayu's full range of bestsellers are available to purchase in-store at Kildare Village, and online via www.Ayu.ie, with international shipping options available.