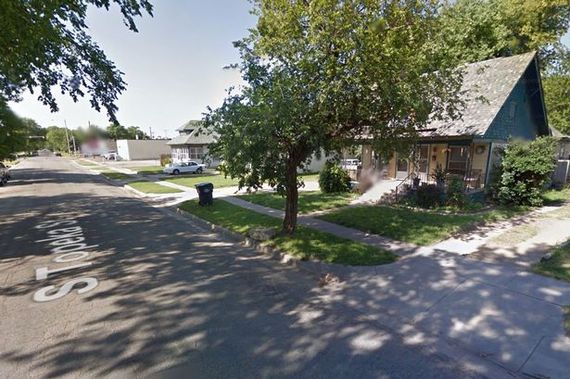 A 10-month-old baby girl has tragically died after being strapped for more than two hours inside a sweltering car in Kansas in the United States.
Police have arrested a foster parent who said he'd forgotten about her until something on TV jogged his memory.
The 29-year-old man was booked on suspicion of aggravated endangerment but has not been charged, said Lieutenant Todd Ojile of the Wichita Police Department. The case will be presented early next week to prosecutors.
The girl's distraught maternal grandmother, Cindy Poe of Topeka, Kansas, went to police headquarters yesterday.
"I want answers," the grandmother said. "I want to know why my grandbaby was in that car."
The investigation found that the girl was picked up from the babysitter around 4pm on Thursday and brought home, where she was "somehow forgotten" in the back seat of the car in Wichita, where temperatures were around 32 degrees Celsius.
The foster parent went inside the house with a 5-year-old child who had also been with him, but left the baby strapped in the car seat in the parked car outside the house.
The other foster parent in the house at the time, his 26-year-old partner, was in the backyard when they came in. No charges are expected against him.
"He believed all the children were downstairs playing," Ojile said. "He did not know the child was outside."
Both realised at the same time the baby was still in the car when "something on TV" jogged their memories.
The couple then ran outside the house and found the girl inside the car, still strapped in her car seat. The car's tinted windows were all up.
Emergency dispatchers got a call at 6.41pm on Thursday, and the girl was pronounced dead at the scene a few minutes later.
The foster couple had been trying to adopt the 10-month-old girl they had cared for nearly all her life. They also had three other foster children, ages 3, 5 and 18; and had two adopted children, ages 5 and 7.
The two younger foster children were visiting other relatives at the time. The couple's two young adopted children were taken into police protective custody.
"I want to assure Kansans that we are doing everything we can to uphold our agency's mission to protect children," Department for Children and Families Secretary Phyllis Gilmore said in a statement. "Children in need of care deserve safe, loving homes."
According to the non-profit child safety group KidsAndCars.org, 18 children have died in hot cars this year in the United States, including a Georgia boy whose father is charged with murder on suspicion of intentionally leaving the 22-month-old in a hot car last month as he went to work.