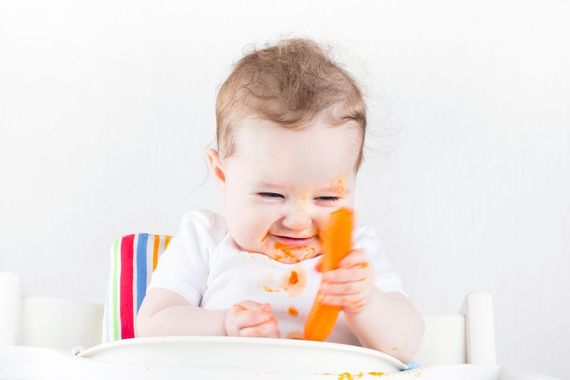 Baby's very first foods must be easy to digest and the texture must be runny and smooth with no lumps. You can achieve this by cooking your fruit or vegetables for a little longer then you would your own, adding a little of the reserved water or baby's milk to make it even smoother.
Foods to start
Start by offering your baby very smooth, runny purées of apple, pear, carrot, sweet potato, potato or butternut squash. If your baby doesn't like the taste and texture of the spoon, try putting the food on your (clean) finger and let them suck it off.
Baby rice
This is a great first weaning food. Once mixed with breast or formula milk, it seems just like thickened milk and it's bland and soft on your baby's immature digestive system. You can also use baby rice to thicken fruit or vegetable purées, making them more filling.
Best time to start
The best time to start is usually during the mid-morning or lunchtime feed, as babies are less fussy then. This also gives you the rest of the day to keep an eye out for any reactions.
3 day rule
Until recently, the advice given was to introduce each food separately, waiting for three days before introducing another new food. However, unless there is a history of allergy or you are concerned about your baby's reactions to a certain food, there is no reason why new foods should be introduced on consecutive days.
Increase thickness
When you feel your baby is ready, try increasing the thickness and texture as your baby gets to grips with eating.
Finger food
Finger food should be introduced as early as six months to get your baby used to feeding themself. They may not master this until 7 months as they learn to pick up objects with a thumb and forefinger. Remember teeth are not essential for good nutrition during weaning as babies use their gums to chew lumpier food.
Cutlery
Let your baby try and feed themself with a spoon or with hand. Place a small bowl of food in front of baby - they will feel they have control and will enjoy the experience more.
Don't force food
Don't ever force food into your child's mouth. If they don't like it they will let you know! Remember it may take up to 25 attempts before a child accepts a new taste.
Here at mummycooks we try to get mums to introduce lots of variety into their baby's diet early on, including herbs and spices and a wide variety of fruit, vegetables and grains into meals. It's all about getting baby used to different tastes and textures, making them less likely to become fussy eaters.