Everyone is firmly back to school now and with the return of the routine it's a great time for you to start back on healthy eating habits at the dinner table. It's so important to get the family together for evening mealtimes, even with busy after school activbites, if you can squeeze it in a few times a week, it's a great way to engage with children, to talk about their day and to have quality family time together.
Keeping the evening meals simple means you'll have more time to enjoy each other's company - Donegal Catch has put together quick and tasty recipes that are easy to prepare for all the family to enjoy including the latest additions to the Donegal Catch range including Wholegrain Fish Fillets and Omega Fish Fingers.
The Donegal Catch frozen fish range is the perfect time saver addition this back-to-school season, removing food prep, reducing food waste and encouraging families to increase their weekly consumption of fish, without having to compromise on taste.
Naturally high in protein and a great source of Omega 3, pack your freezer with the latest additions to the Donegal Catch range and you'll always have nutritious, quick, and easy lunch or dinner options for the school term ahead!
Working closely with fish suppliers to bring great tasting fish and supporting responsible fishing practices, Donegal Catch is encouraging Irish households across the country to eat at least two portions of fish a week this back-to-school season, with the help of top tips from dietician and mum, Orla Walsh, along with quick and tasty recipes that are easy to prepare for all the family to enjoy available from www.donegalcatch.ie/recipes/.
Wholegrain Donegal Catch with Sweet Potato Wedges and Greek Yoghurt Aioli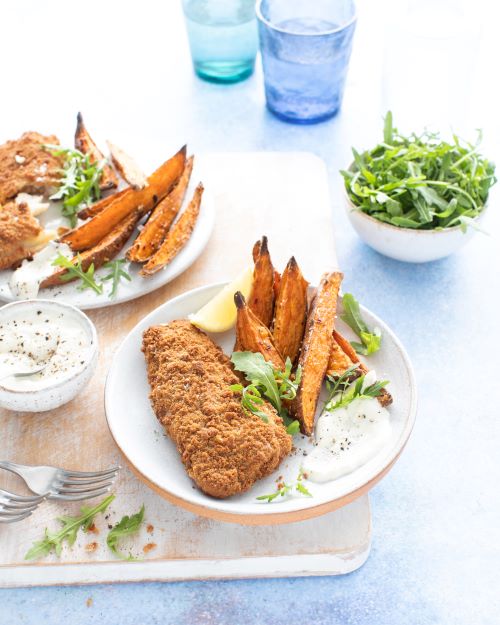 Serves: 2-4
Total time: 40 minutes
Ingredients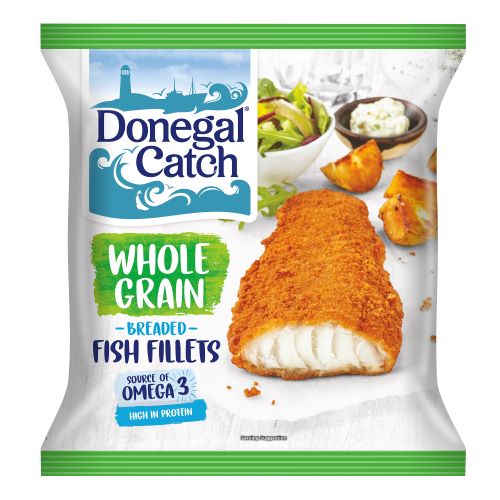 3-4 Donegal Catch Wholegrain fish fillets
For the sweet potato wedges:
2 medium sweet potatoes, cut into wedges
1 teaspoon cornflour
½ teaspoon ground cumin
½ teaspoon hot smoked paprika
2 tablespoon olive oil
For the greek yogurt aioli:
100 grams greek yogurt
2 tablespoons olive oil
2 garlic cloves, grated
Zest & juice of ½ a lemon
Salt and pepper
To serve:
Rocket leaves
Lemon wedges
Method:
Preheat the oven to 200 C / 180 C fan.

Place the sweet potato wedges into a bowl and add the cornflour, cumin, paprika, olive oil and a good pinch of salt and pepper. Mix well and then lay out on a flat tray, skin side down and well spaced apart. Cook for 35 - 40 minutes until soft inside and crisp on the outside.

Cook the Donegal Catch Wholegrain Fish Fillets according to the packet instructions.

To make the aioli, mix all the ingredients together in a small bowl and season well with salt and pepper.

Serve the wedges with the cooked fish, the garlic aioli and some rocket leaves.
For more delicious recipes visit – www.donegalcatch.ie