Having recently discovered and enjoyed her television show, I decided to try out Lorraine Pascale's cookbook Baking Made Easy. Both Lorraine and her recipes looked fabulous on the show, encouraging me to try some of her creations for myself and find out if the book lives up to its title.
The book has over 100 recipes and is divided into convenient, straightforward chapters: Breads, Cakes, Desserts & Patisserie, Sweet Treats and much more. The book has lots of little tips, confessions and baking short-cuts, giving it a lovely personal touch.
Baking Made Easy has everything from the complex (Three-tier Red Velvet Cake) to the very simple (Cupcakes). She also features basic recipes that every cook should know such as Puff Pastry.
Visually this book is very pretty to look at. The photos that are there are beautiful, with the cakes and the cook herself looking amazing (no surprise there seeing as Lorraine is a former model).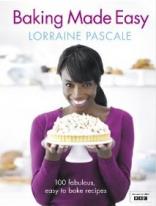 Although looking at the pretty photos is half the fun of a cookbook, the important part is the recipes themselves. So are they any good? In short – yes! The steps are generally simple and easy to follow and the end results are divine. The Dark Chocolate & Raspberry Swirl Cheesecakes are delicious and very impressive to look at, making them ideal for a dinner party or for a romantic dinner for you and your hubby.
If you are looking for something that the kids will enjoy the Macaroons are very colourful and taste like little, light treats from heaven. Another nice recipe for the kids is her "Totally Lazy Mini Sausage Rolls", perfect for serving at a child's party.
While this book focuses on cakes and other sweet things, it also features some lovely dinner recipes such as Peppered Beef and Trout en Papillote. Canapés and other small, savoury treats are featured in the book, so there are recipes no matter what the occasion.
There is a nice variety of simple and more advanced recipes, making this book suitable for everyone from the beginner cook to the master chef. So if you would like to impress your other half with your cooking skills or simply want to keep the kids happy with some tasty treats, this book is a must-buy.
Baking Made Easy is available in all good book shops.