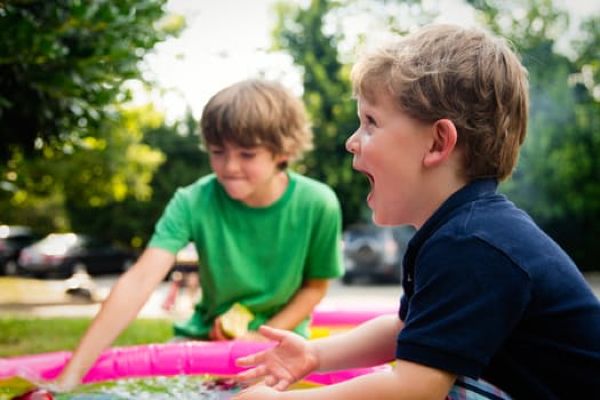 The June Bank Holiday is in full swing, which means that summer has officially begun on the Emerald Isle (don't let the weather fool you!).
With that in mind, we wanted to do up a little list of fun things to do around the country this weekend, that you and your children will enjoy.
From festivals, to the great outdoors, this weekend is set to be brilliant!
We should probably start with a little weather forecast, though, as you just never know if you will need an umbrella or sunglasses - or both, to be honest.
According to the lovely people at Met Éireann, Saturday morning will be dry in the east with sunny spells: "Showers in the west will extend eastwards and become widespread by early afternoon. Some will be heavy, and a few possibly thundery, in Ulster."
Highest temperatures of 13 to 17 degrees with moderate to fresh southwest winds - so, not the worst, really.
Sunday will see a fairly dry start in many places, with sunny spells and with the showers well-scattered. But they will be fairly widespread by early afternoon, when many will be heavy. The weather will dry out in the evening and early night, with clear spells.


Monday will be cloudy, misty and damp to start the day, with some further rain - heavy in places.
The weather will remain pretty changeable (what else is new?), so wherever you're going, pack all the essentials.
Bloom Festival
Bloom was launched by Bord Bia in 2007, primarily as a promotional vehicle for horticulture; providing a showcase for garden plants, garden design, construction, horticulture and gardening as a hobby. Based on similar successful formats such as the Chelsea Flower Shows and Hampton Court Palace shows, Bloom has numerous highly creative gardens and plant displays which are used to inspire and excite the public about gardening and garden design.
The Show Gardens, which are created by some of Ireland's top garden designers, are the heart and soul of the five-day Bloom festival, offering visitors a taste of the latest planting and design trends in Ireland.
Fleadh Cheoil Luimnígh
Whether you're a competitor, trad lover, foodie or outdoor enthusiast, the Fleadh Cheoil Luimnígh has something for the whole family to enjoy. Some of Limerick's top musicians will set the scene at the festival, with free music sessions and outdoor performances, complete with a Céilí Mór.
Taking place in the beautiful country town of Kilfinane, nestled in the heart of the Ballyhoura Mountains, Fleadh Cheoil Luimnígh promotes traditional local arts and is run by the not-for-profit Ballyhoura CCE. Be part of the community and get to the heart of where Irish traditional music and dance lives and grows, at Fleadh Cheoil Luimnígh.
Connemara Bog Week
The Connemara Bog Week features a whole host of events that will bring together members of the local community and visitors, thanks to a programme packed with activities.


If you're feeling sporty, you might want to check out the 5K run and Family Fun Day, or take a breathtaking guided walk in the Connemara National Park. Ponder spoken word at Poetry in the Park; or sit under the gothic, pointed arches of Kylemore Abbey, and enjoy an unforgettable concert.


The music will be mighty, spilling out into the pubs, with gigs and sessions featuring local talent like The Hernons and the Kane Sisters.
Lismore Opera Festival
Lismore Opera Festival is one of the highlights of the year for aria aficionados who descend upon West Waterford in their evening finery. Be part of it at the eighth edition of the event.


Each year, the festival organisers choose one essential opera to mount on the grounds of Lismore Castle; this year, audiences will be treated to an opera buffa, or comic opera, in the form of L'Elisir D'Amore, a tale in two acts.
Bloom Fringe Festival
BloomFringe Festival is an edgy festival of urban greening. It slams onto the streets of Dublin on the June Bank Holiday weekend, popping up luscious gardens and transforming unloved spaces into urban oases.
A fun and mostly free family event, the festival is celebrating its 4th birthday, and this year's theme is 'Play in the Streets'. BloomFringe will be in Dublin Castle on June 3, and Wolfe Tone Square on June 4, with events to suit everyone including:
pop up parks
workshops
tours
talks
drop in events
street games and lots more.
Enjoy the long weekend, everyone.