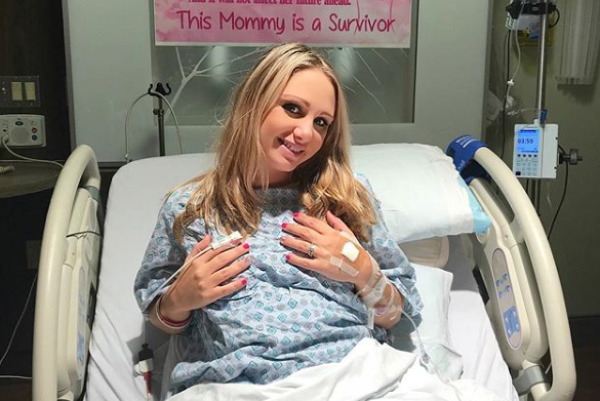 Meghan Koziel, a breast cancer survivor, was in her bubble of happiness when she gave birth to her miracle baby.
However, when she was in hospital, she did not want to re-live her medical history so she whipped up a simple sign to explain why.
Meghan was diagnosed with breast cancer three years ago at the age of 26 and had to undergo a double mastectomy.
This, sadly, prevented her being able to breastfed feed her newborn baby.
Her sign read, ''NO BREASTFEEDING ZONE. Though breastfeeding is a very special task, please be aware before you ask. Our miracle baby will be formula fed, and it will not affect her future ahead. This mommy is a survivor."
Meghan is aware that medical staff don't always look at their patients charts fully and so she decided to write the sign so that she would not have to tell the painful story of her medical history again.
She took to Instagram to post a picture of her in the hospital bed beneath the sign.
She captioned it, "attention please, attention please. We do indeed have a mommy-to-be who had breast cancer and a mastectomy which means, without boobs in the houseeeee!"
She continued, "Got the banner raised just in case people are confused at why we are NOT going to be breastfeeding our little bundle of joy. Yes I have foobs, no I do not have boobs (or nipples) therefore... my body is incapable of breastfeeding:) -sign was made by me!!!!!)"
Meghan has said that she wast to use her platform to shed light on the scrutiny many women face for not breastfeeding, even if, like herself, the situation is not in their control.
She said, ''all survivors who are wanting to be moms, never ever give up hope! Doctors cannot guarantee fertility, but if you think about it... fertility isn't guaranteed for anyone in life! Miracles happen, and whether you can conceive naturally, through IVF, or adoption... there is ALWAYS a way to become a mom! You just have to find the path and trust in it once it's found."
She is a true inspiration to mum's everywhere.